2020's Must-Have List Of Bathroom Cleaning Essentials By Offer Maids House Cleaning Dubai
Offer Maids House Cleaning Dubai about the best bathroom cleaning essentials to quickly clean your bathroom and tips on deep cleaning your bathroom.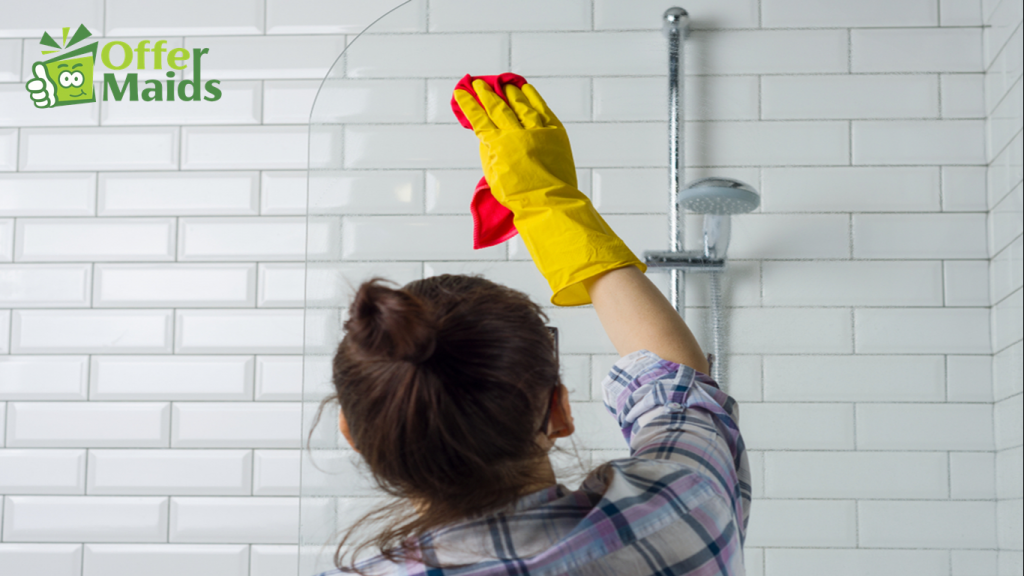 Bathroom cleaning is not a fun task to do, and most of us hate doing it. Having the right cleaning tools for your bathroom helps you with a squeaky cleaning session, and thus not making your bathroom cleaning a warzone. Disinfecting wipes, cleaning spray, mops, scrub brush, all of these are essentials to assist you in a high-speed cleaning process. Here are the top bathroom cleaning essentials you'll need for a quick and effective cleaning session by the best hourly maids in Dubai – Offer Maids House Cleaning Dubai.
Rubber Gloves
Most of us forgot to use hand gloves when it comes to cleaning or washing. Our cleaning ingredients contain chemicals and the impact of these certain chemicals on our skin can be too dangerous. Hence, never forget to wear rubber gloves when you are in a cleaning session.
Especially with bathroom cleaning sessions, Offer Maids House Cleaning Dubai highly recommends using rubber gloves. They will keep your hand protected from chemicals and also your hands won't get vulnerable to germs in your bathroom.
Disinfectant Wipes
Disinfectant wipes are the most recommended must-have tool you should have in your 2020's cleaning essential checklist. In consideration of the coronavirus outburst, it is vital to disinfect every minute space of your home to prevent transmission of coronavirus.  
Offer Maids house cleaning Dubai recommends getting in the practice of using disinfectant wipes and make it a habit to kill different types of germs including coronavirus and also reduce the risk of cross-contamination in the areas that are more frequent to touch, like the bathroom doorknob, handles, etc.
If you want to know why Is Disinfection Important In Providing A Healthy Environment, please click here to visit our previous blog.
Disinfecting Spray
Disinfecting sprays are so popular nowadays as they are very much convenient to use. According to hourly maids in Dubai. They are equally important as disinfecting wipes. They are easier to use when compared to disinfecting wipes. 
You can spray the disinfectant on the hard surfaces of your bathroom to get rid of viruses, bacteria, and fungus. It also helps to prevent the growth of mold and mildew in your bathroom.
Toilet Bowl Cleaner
You can use a toilet bowl cleaner to clean the toilet bowl by squeezing the cleaner inside the rim of the toilet bowl. You can use a scrubber brush to scrub away the dirt and rinse it off. After cleaning, you can use a deodorizer inside your toilet bowl to eliminate any foul smell. Toilet bowl cleaners are available in gel formula tablets. 
Toilet bowl cleaners are available as cartridges that can be attached directly to the flushing system or the plow pipe. Cartridge cleaners are very easy to install and give a deeper and quick cleaning to your toilet bowl, say experts in hourly cleaning In Dubai.
Mirror Cleaner
Never miss mirror cleaners in your cleaning job. Mirrors, especially in the bathroom can easily get dirty due to water splashing off from the sink or by wiping away steam. In that case, frequent cleaning of the mirrors can make them shinier and brighter like new. You can use a glass cleaner for that purpose. 
You can also make your glass cleaner at home by simply adding half a cup of rubbing alcohol to the same amount of water. Add a few drops of vinegar to the mix. Pour the solution onto a spray bottle and your DIY mirror cleaner is ready.
Grout Cleaner
A grout cleaner can help you to get rid of the grout and grime build up in your bathroom. Here are some of the organic cleaning methods by professionals in hourly cleaning In Dubai. You can use warm water, an old toothbrush or a stiff-bristled brush to scrub away the grout deposit. 
 Hourly maids in Dubai also suggest using homemade ingredients for effective grout cleaning. Add some vinegar to an equal amount of warm water and spray the solution on the grout deposit. Let the solution settle down and you can scrub it off after 10 minutes. You can also use baking soda, hydrogen peroxide, or bleach for this purpose.
Tub And Tile Cleaner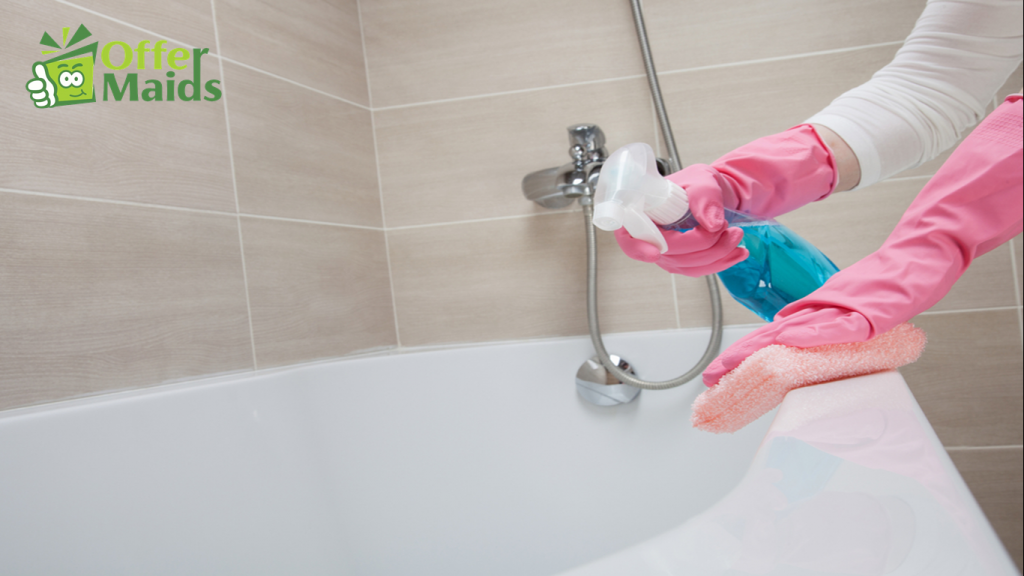 The next essential on the top list is tub and tile cleaner. A tub and tile cleaner is very important to clean all the soap scum and mildew from the bathroom. It dissolves watermarks, soap scum and rust particles, thus keeping the bathroom clean and sparkling. Offer Maids house cleaning Dubai suggests using tub and tile cleaner to remove watermarks from your bathroom.
These cleaners speed up the cleaning process by making your tiles, tub, and shower sparkling clean within a short period after application. After the application of tub and tile cleaner, rinse it off with cold water.
All-Purpose Cleaner 
An all-purpose cleaner works wonders in cleaning your bathroom. It helps to clean hard surfaces including the countertop, toilet, and the sink. As a result, a germ-free and cleaner bathroom.
Why hourly maids in Dubai suggests using an all-purpose cleaner is because they remove all kinds of dirt deposits in your bathrooms such as body oils, soap scum, grime, watermarks, and stains and help you with a cleaner bathroom. So don't forget to add an all-purpose cleaner in your bathroom cleaning essentials checklist.
Book Offer Maids House Cleaning Dubai For a Matchless Cleaning For Your Home
At Offer Maids house cleaning Dubai, we provide hourly cleaning in Dubai with the best cleaning specialists for all of your cleaning chores, whether it can be residential or office cleaning. Office cleaning, kitchen cleaning, window cleaning, party helpers, pet care services – we can take care of all kinds of cleaning concerns. We take out harsh chemicals from our cleaning essentials to make sure that we are providing our clients with a non-toxic cleaning. Thus, our hourly maids in Dubai guarantees to improve air quality, germ-free, and clean environment for everyone in your family, especially kids, adults, and pets.  
Book an Offer Maid right away, and have a safer home.