Wooden Door Cleaning Techniques By Top Hourly Maids In Dubai
Hourly Maids in Dubai about the best cleaning techniques for wooden doors.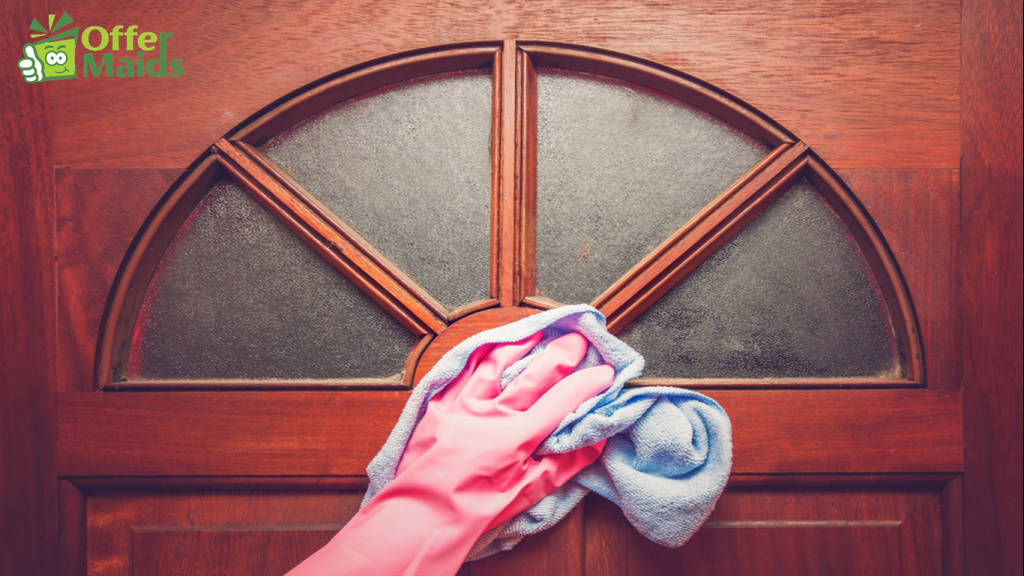 Doors, the most touched surface in our home, and unfortunately, they are the most neglected surfaces too, when it comes to cleaning. Door corners are where we can see a lot of debris and cobwebs. Wooden doors accolade every style from the most vintage to the modern look.
From cleaning up the door handles to underneath the doors, here's everything you need to know about cleaning wooden doors gleaming and spotless by top hourly maids in Dubai. You cannot use every cleaning product on wooden doors, as certain chemicals may damage the natural feel of the doors.
Dust Regularly
Regular dusting can make the doors look clean and fresh. When it comes to dusting, most of us forget to dust the doors, and hence, they may easily get caught by dust and debris. The debris and dust get deposited in the doors and hides the raveled detailing of classic wooden doors.
A regular dusting routine can prevent dust from getting deposited on the wooden doors. You can use a feather duster to give a quick and efficient dusting. If your wooden doors have minute detailing, then you can use a paintbrush to clean those areas which are hard to reach by a feather duster brush.
Give Extra Care To Door Knobs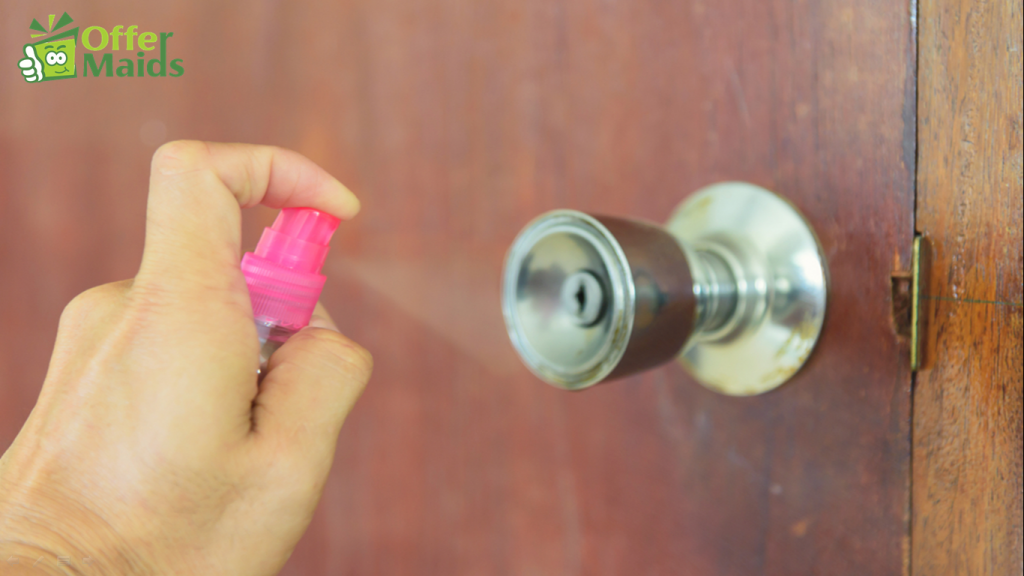 Door knobs or door handles are always prone to frequent touches. Every family member and everyone who comes to your home comes in contact with doorknobs and those areas can be the transmitters of various germs. Thus, give extra care to high touch areas like doorknobs.
You can use any disinfectant cleaner to disinfect and sanitize your door handles. You can also mix 6 spoons of rubbing alcohol with 4 spoons of water and add it into a spray bottle. Shake it well and spray it onto high touch areas to disinfect and keep them free of germs and pathogenic microorganisms.
Want to know how disinfection is important to stay safe from harmful germs, then check out our previous blog on Disinfection Services Dubai Explains How Cleaning And Disinfection Differ.
Give A Mild Wash To The Doors
One of the easiest ways to deep clean your doors is by giving them a mild wash. You can use a mild dish washing liquid for this purpose. Mix enough drops of dish washing liquid into water and make it into a lather. Use a non-abrasive cleaning sponge to scrub your doors. Now dip the sponge in the soap solution and scrub it over the door to remove all the dirt, sticky grease, etc. Scrub on the top, bottom, and sides of the doors to ensure a complete cleaning for the doors. A mild scrub can help clean the door from dirt. 
Once you are done with cleaning, dip the sponge in clean water and use it over the door to remove all the soap that remains from the door. You can also wipe the door with clean water to remove soap particles from the door. After the washing, wipe it with a clean cloth to get the door dry. Hourly maids in Dubai also suggest putting the fan on or using a blow dryer to get the job done swiftly.
Work On Stubborn Stains
Sometimes stubborn stains may happen due to accidents. These stains can destroy the entire look of your wooden doors, say hourly maids in Dubai. You don't have to panic if some stains happen on the doors. Grab a paint thinner and add some drops to a clean rag. You can rub with the grain of the wood to take out the stains. This method helps to remove all kinds of grime and dirt build-up from wooden doors. 
Once you take out the stain completely, you can give a wipe to the stained area with clean water to ensure that there are no chemical remains on the wood. Always wear safety gloves while you work with chemicals. 
Give A Final Touch
After the cleaning of stubborn stains, the stained area may lose some of its natural gloss. It's time to give the final touch to the wooden door. You can use a liquid wood polish for this purpose. 
Make sure that your door is perfectly cleaned before you apply the wood polish. You can spray some wood polish on a cleaning sponge or a clean cloth. Now just wipe the grain of the wood and it can bring back the natural luster. Adding wood polish also improves the durability of wood. It also prevents gooey dirt from sticking onto the surface of the wood.   
Hire Hourly Maids In Dubai
Book maid Dubai for taking care of stubborn stains and other cleaning chores. You can hire the most affordable and reliable hourly maids in Dubai from Offer Maids, where you can avail of the best cleaning offer Dubai. Our hourly maids in Dubai are well trained to provide the best service for various cleaning necessities. Whether it can be home and office cleaning, party help, and even pet care services in Dubai – We do it all with confidence.
So why wait? Leave all your cleaning chores to the best hourly maids in Dubai and enjoy a stress-free cleaning session.