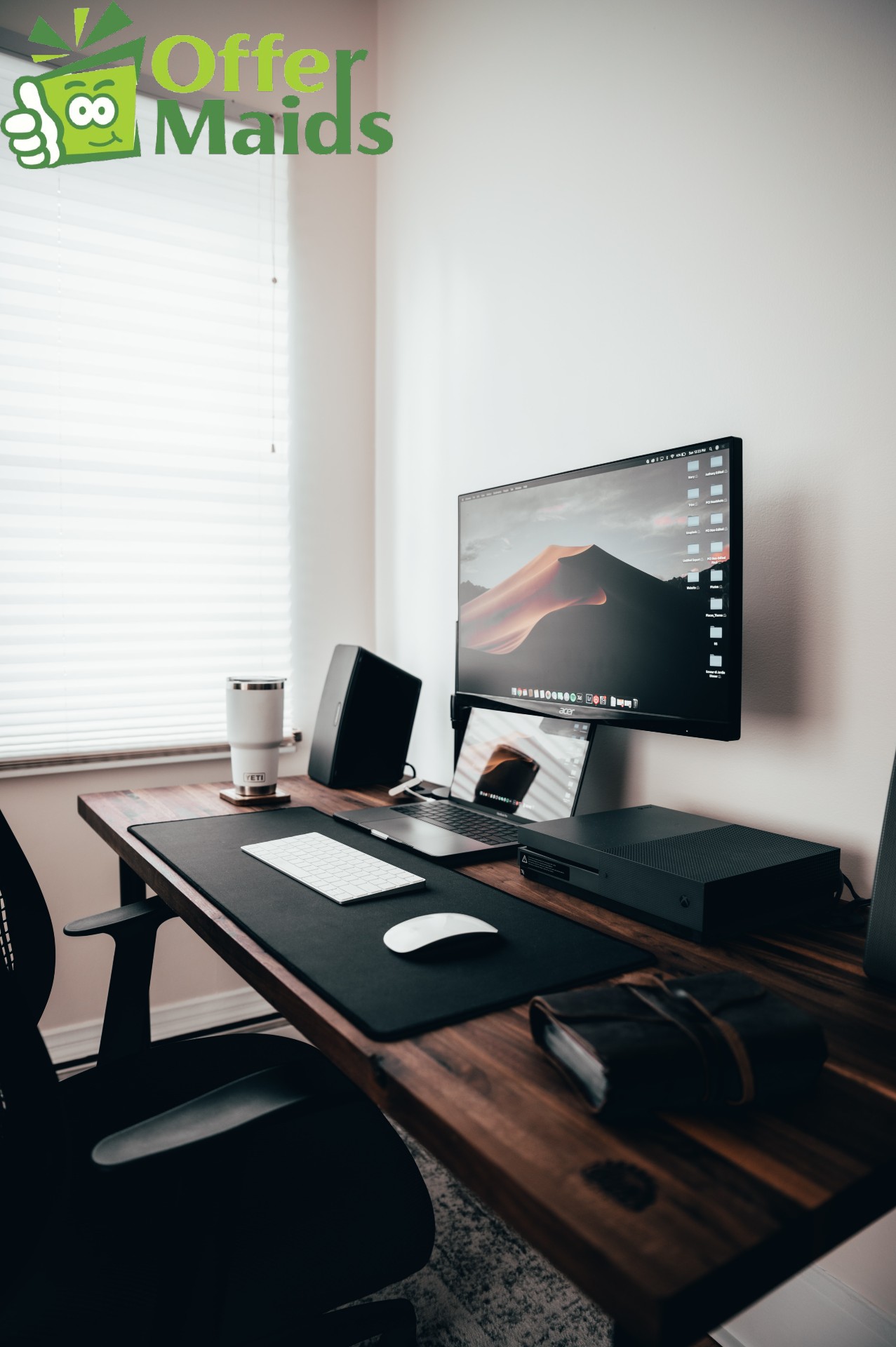 It's our responsibility to keep our workplace neat and clean. Cleaning your desk off daily has many benefits. It will make your day more productive and it can declutter your physical and mental health . A clean workplace can increase efficiency . The impression it makes on your client is huge and it will reflect in your annual graph of the company.  The best maid service in Dubai provides the quality and effective office cleaning service . We have well trained and experienced staff who can give you cent percent satisfaction with our work. Here we are providing the best tips to keep your office desk clean .
Why should you clean off your desk?
You will be more focused on work : 
The mind can get distracted with a desk that contains piles of used paper scattered around the desk , sticky notes , coffee cups and extra office supplies . it will reflect in your daily work . So the first thing that you need to do when you reach for your work is cleaning your desk off . You may find yourself being more efficient. Place the items you need , rather than digging on the stack of papers and wasting your time.
You will have more space to work 
Your desk space is a hot commodity. You can see your colleagues move to a conference room or meeting room to have space to spread out . Maybe they have enough space in their desk itself but it may be hidden under the clutter on their own. Don't be that Clean off your desk now so you'll have plenty of space to spread out and focus when the next big project comes your way.
You will be more professionals 
The cleanliness of your desk tells about your personality as your own clothes. And appearance. So keep your desk clean and neat. Maintaining your workplace can improve your efficiency and impression on your clients.
Best method to clean your desk
Clean everything off your desk
Just make sure that your desk contains only the essentials you need and use.
Every second you place your hands on things on your desk , Like mouse keyboard desk space so it might be a harbor of germs . After you sort out the papers and files, sanitize your desk and your hands by using a wipes. Clean off desktop, mouse, keyboard and mobile or any other items you touch frequently.
The small things like pens , papernotes,paperclips need to be organized and placed in a compartment that you can easily access. Once you find a convenient space for supplies make sure it will be there if it is not in use.
It will reduce the old papers piling up and always remember to clean it daily .
Why do you need professional cleaning for the office?
Benefits of professional office cleaning
Healthier work environment

Better first impression for customers 

Less hassle

Clean done right the first time
Professional cleaning service for a productive working environment 
We all know the importance of cleaning . and we know about the pandemic situation we are going through . bacteria, virus , allergens are everywhere we need to prevent them as strongly as we can . a working place can easily spread illness by simply touching the surface . So regular professional cleaning must be done in a working environment . The cleaning service in Dubai  provides the best office cleaning . Offer maids provides expert maids for commercial cleaning services. Clean and organized office is important to maintain a healthy and good working environment for your staff. Therefore, it is necessary to hire professional office cleaning services in Dubai.