Hourly maids in Dubai about how to perfectly clean your mattress

Do you know that people spend almost half of their life on the mattress? A good sleep improves your mental and physical wellbeing. Sleeping is equally important as exercise as sleep boosts immunity, fertility and manages body weight.  For all these to happen, all you need is to have a clean mattress, says hourly maids in Dubai.
Hourly maids in Dubai suggests periodic cleaning of the mattresses to increase the lifespan of your mattress. It reduces allergies and prevents mold formation. Keeping your mattress clean can eliminate dust and debris and makes it look fresh. If you know the right technique, mattress cleaning won't be a strenuous task to do, says expert hourly maids in Dubai.
Before you start cleaning, here is a list of cleaning supplies that can help you make the job easier.
Vacuum Cleaner

Cleaning sponges/ clothes

Baking soda

Stain cleaner

Detergent
Here is how to keep your mattress clean and fresh all the time with minimal efforts. Read on to know the steps to perfectly clean your mattress from hourly maids in Dubai
Remove everything from the mattress
The first step towards cleaning the mattress is by removing all the pillows, pillowcases, linens, fitted sheets and other decorators from your mattress. Launder them to get rid of all the dirt and dust. Depending on the type of fabric, some can be hand washed while some can be machine washed.  so before you proceed, make sure you read the wash care instructions and choose the right setting for each of them.  
Vacuum the mattress
Once the pillows and bed sheets are out, Vacuum the mattress to remove dead skin, pet hair, and dust mites from it. Make sure you pay attention to the corner to remove any dust deposits. Use the wide attachment of your vacuum cleaner on the mattress and the nozzle on the edges. 
Treat the stains
To treat the stains, use a mattress stain remover. Some mattresses cannot be washed so never soak your mattress in water. You can fix the stains by spot cleaning them using a stain remover. Spray it onto the stain and blot it with a clean wet cloth until the stain is completely removed.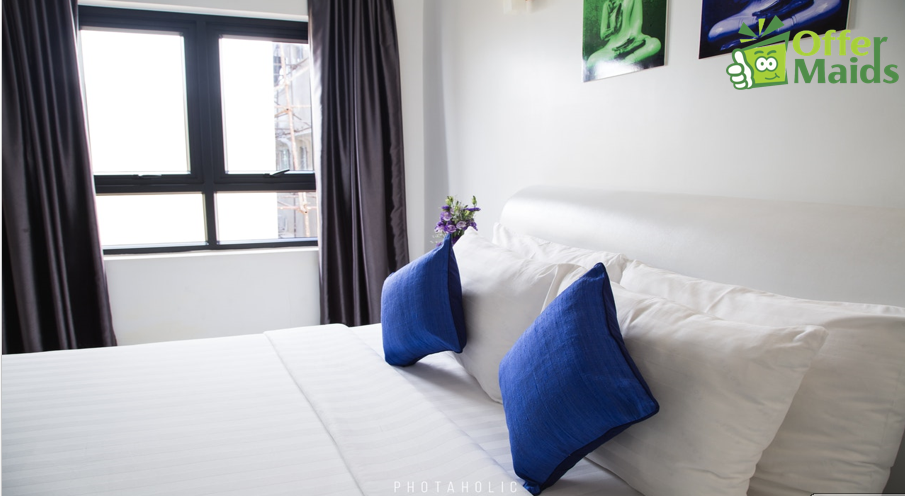 Deodorize the mattress
To deodorize the mattress, sprinkle some baking soda on the mattress. Let it stay for a few hours and vacuum it off. Baking soda is a natural deodorizer. Instead of this technique, you can also keep your mattress in sunlight for a few hours to eliminate odor.
Flip and repeat
Now you are ready with cleaning one side of the mattress, now flip the mattress and repeat the steps.
Also Read: 4 Homemade Cleaners That Actually Work