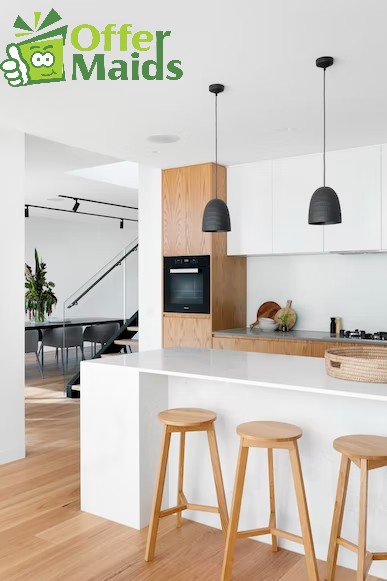 A Shiny glass-top stove will change the entire look of your kitchen. When the lights bounce off the perfect finish gives a shine and brightness to your kitchen.
So everybody now chooses the glass-top stove . In this scenario you should know how to clean a glass-top stove perfectly and neatly . Because they get stains very quickly . When you rely on a house cleaning company they will handle all this in a matter of time. In a busy life you can depend on professional cleaning companies whose experienced staff can easily manage each and every corner better than us . 
As we said A beautiful glass stove can get uglt soon. Scratches, splatters, spills, burns can damage the look of a glass stove. Manufacturer's cleaning guidelines can help a lot . maintain a schedule for cleaning it will better help to maintain the glossy-shiness of the product . We can use cleaning liquids according to the guidelines . 
It is necessary to keep the kitchen clean and organized. For a healthy family it is necessary to keep the kitchen tidy. Offermaids gives you first class cleaning service to your kitchen. Our cleaning experts assist you in maintaining a hygienic kitchen. Only experts know how to clean the surfaces without time consuming . They will know some tips and tricks . like glass top stove cleaning hacks are shared here . 
Glass-Top Stove Cleaning Basics
We can't save our glas stove from spills and scrapes all the time . so the next step we can do is cleaning perfectly without causing damage . By following these basic steps for cleaning you can clean your glass-top stove easily.
Follow the warranty, if your stove is still under warranty period , using the wrong cleaning product may damage the stove . so it is better to hire a cleaning professional for this.

Allow the glass top to cool down after working . Using cleaning product  or water to a hot material cause damage of the appliances.and may cause permanent staining

Remove the knobs and soak it under warm and soapy water for some time. Wipe it out with a microfiber cloth.
Turn on your range hood fans and light. the fan will help ventilate vinegar and other fumes.
You don't need expensive cleaners . just choose the right one rather than choosing expensive and harsh chemicals . Most homes already have eco-friendly cleaners for cleaning the glass top and gas burners.
Daily cleaning hacks for glass-top stove 
As soon as you finish cooking, wipe the glass with a paper towel .
Here's what you need
Distilled water

White vinegar

Toothpaste

Liquid dish soap
White vinegar is a natural degreaser and an inexpensive product for cleaning a glass top stove. For daily use mix vinegar and water in a spray bottle and after cooking just spray it and wipe it off with a paper towel.
Baking soda
Baking soda is also a natural deodorizer and cleaner which can do wonders on a glass top stove . Sprinkle baking soda on the stove, cover it with a paper towel and let it sit for 15 minutes and then wipe it off the residue and dirt with a paper towel.
How to fix scratches on the glass-top stove
Baking soda paste
Baking soda can repair swirls and scratches.mix baking soda and some water to make it a paste and rub it to the scratches and hazy areas with your finger. Use damp cloth to remove the residue.