The five pillars of Islam
Fasting, praying, faith, charity, and pilgrimage to mecca forms the five pillars of Islam, in the month of Ramadan Muslim's will be practicing fasting where they will abstaining from eating from dawn to dusk.
We practice fasting in the month of Ramadan as we believe it will strengthen our belief and faith in Allah and will also bring us closer to him.
Ramadan is not just a month for fasting, it's also a month in which we try to indulge in spiritual activities along with our loved ones and will strive towards becoming a good servant of Allah by performing good deeds.
The role of cleanliness in Islam
As per the Quran and the hadith Islam is a religion of nature they are both inseparable therefore, like Mother Nature the religion of Islam also place great emphasis on cleanliness.
There are explicit excerpts in the Quran mentioning about the importance of keeping one's own body pure and clean  and therefore, it's customary for us Muslim's to take bath at least twice in a day.The Quran also places emphasis on the importance of keeping one's own garments clean as the cloths also need to be kept in a neat and clean condition for the body to attain purity in the true sense of the word.
There are many Dubai house cleaning services who offer services like ironing and laundering services, if you want you can avail their services to take the task of cleaning your clothes off your hand therefore, you can spend your energy and time on other productive things.
The Significance behind the month of Ramadan
According to our beliefs, it was in the month of Ramadan in which the Quran was revealed to the prophet by Allah. According to the Islamic calendar, the Ramadan falls on the ninth month however, it will vary from year to year as Islam follows the lunar calendar.
Keep your house clean and organized
Yes, we should keep our houses clean all the time, however, during the time of Ramadan it has a special significance as it a time in which we strive for both the purity of the mind and the soul.
All of us are aware of the old sayings "Cleanliness is next to godliness". If we were to keep our surrounding's clean it will give us a calm and soothing feeling which in turn will allow us to focus more on our prayer. If you want there are many Dubai house cleaning services who are providing cleaning service at offer rates during Ramadan.
Use banners and lanterns to decorate your home
Using light's to welcome Ramadan is something people have been doing for a very long time you can use any source of light for this purpose like tea lights, candle lights, string lights, etc.
In most houses nowadays you can see people putting up banners with various quotes from the Quran to instill good values and morals into one's children.
If you want you can place the lanterns in a table which you can double also as a table to serve the iftar food on.
Have a healthy Ramadan
Ramadan a time in which we treat ourselves to delicious snacks like samosas, tasty sweets and foods like,fried chicken etc.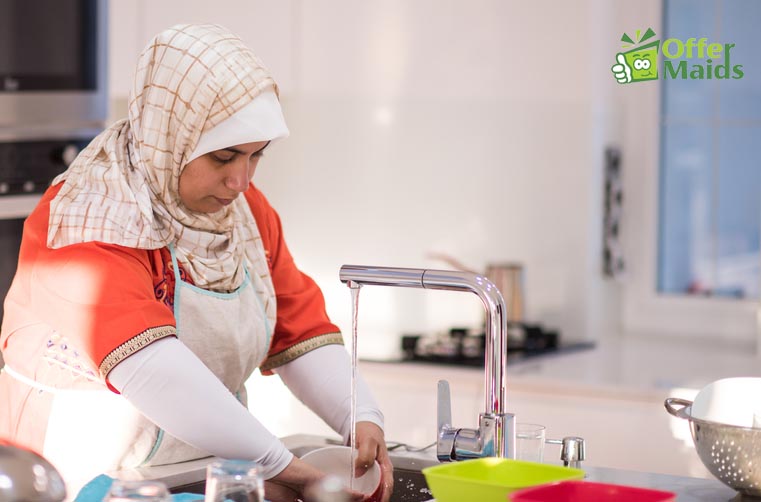 We are practicing fasting from early morning onward and at the end of the day; we will eat anything we can get our hands own since our blood sugar levels will be down. So during this Ramadan why not make a resolution that you rid yourselves of your old ways. Take your own time and remove all wanted things from your fridges afterwards clean it thoroughly and stack up your fridge with fresh and healthy fruits and vegetables instead of junk food and enjoy a healthy Ramadan with your family and loved one's.
Preparing a dedicated place of worship
Praying is also a fundamental pillar of Islam therefore, why not allocate a separate portion in your home just for praying, you don't have to allocate an entire room for prayers create an itikaf room having the various signs of Allah during the 10 last days of Ramadan.
There are many cleaning s in Dubai that provides hourly maids in Dubai during these types of festive times at reduced rates to help out their customers.
Ramadan guidelines for the households
It is highly advisable to thoroughly clean your house before the start of Ramadan before we can strive for spiritual purity our surrounding areas should be neat and clean.
The best time to clean your house will be during the morning, as during both the afternoon and in the evening you will be busy with the preparation for the iftar feast.
You can ask your children to help you out in the kitchen as during Ramadan most of the schools will be closed.
In olden days the women folk spent their time indoors and do not engage in employment, however, nowadays the Muslim woman folk are also engaging in jobs and are engaging in other activities like shopping outside respective homes.
Therefore, it will be tough for them to juggle between their commitments at the office and their commitments at the home.
For those of you who don't have anyone to help you out with your Ramadan preparation or have other priorities can avail the services of a cleaning company in Dubai who will be more than happy to take off this burden from your hands.
As part of Ramadan, we will be using our kitchen a lot while preparing the various savories for iftar and suhoor, therefore, it's very important that week the kitchen premises neat and clean during Ramadan.
There are many maid services in Dubai who are offering their services in the form of mini-packages where you can avail the services of an hourly maid in Dubai to help you out in the kitchen.
Owing to Ramadan the working hours of most companies and offices will be slashed including that of cleaning companies, so if you are on the lookout to hire an hourly maid in Dubai you will have to make your reservations fast as there will be shortage of personal.
contact a cleaning company in Dubai well in advance therefore, that you can enjoy complete your preparations at the earliest and spent some quality time with your loved ones.
We have provided a brief overview of what is Ramadan its significance for the Muslim fraternity and the changes the Muslim brothers and sisters need to practice in both body and soul to celebrate Ramadan in all its glory.