Why Is Disinfection Important In Providing A Healthy Environment?
          Studies say that there are about one trillion species of microorganisms that are present in our earth. They include bacteria, algae, fungus, viruses, parasites and more. The environment we are living is surrounded by millions of microorganisms. In fact, there are more than 50,000 microbes living on a square inch of our skin. Most of the bacteria are harmless to us. There are other microbes called pathogens that which can be harmful to humans and animals. Thus, they are disease causing microorganisms. Cleaning companies like Offer Maids House Cleaning Dubai provide the best disinfection services in Dubai.
          In light of current scenario, considering the world-wide spread of COVID-19, it is highly crucial to properly disinfect every surfaces to eliminate COVID-19 causing coronavirus. Thus we can maintain a virus free and healthy environment. Coronavirus can live on different surfaces. As a result, when we interact with such surfaces, they can enter our body. If you want to know more tips to stay away from coronavirus, please visit our previous blog here How to stay away from Coronavirus?
What are Pathogens?
          Pathogens are microorganisms that can cause diseases once the enter human body. They also have the ability to replicate once they enter a host body. These pathogens can trouble the immune system and spread disease. They can spread to others by means of touch, respiratory fluids etc. 
The Disinfection Process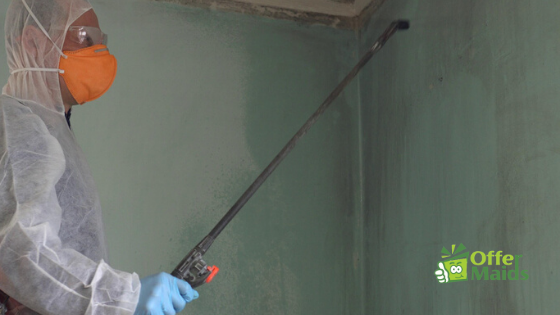 Disinfection is a process in which chemicals are used to eliminate germs. As a consequence, it can kill disease causing pathogenic microorganisms such as bacteria, viruses, etc that live on different surfaces. It helps to eliminate various kinds of harmful bacteria.
          The common chemical ingredients found in most disinfectants include chlorine, monochloramine, chlorine dioxide, ozone etc.
What are the advantages of disinfection?
Using disinfectants kills more germs when compared to sanitizers.

Cleaning kills germs but disinfection process will take less time to create a germ free environment.

Disinfection helps to eliminate odours.

It is a non-staining process.

Non-toxic disinfectants are harm free to human beings and animals, because they are non toxic, they are 100% safe.

They can keep allergies away from environment.

It prevent spread of harmful viruses like coronavirus.

It will eliminate microbial pathogen growth.

Prevent transmission of different kinds of virus and bacteria causing diseases.
Prepare disinfectants at home
          You can easily prepare homemade disinfectants with ingredients that are available at home.  Follow these methods to easy prepare disinfectants at home. 
Mix quarter cup of household bleach in one gallon of water and you can use it as a disinfectant solution. 

If you prefer a bleach free disinfectant, you can make a disinfecting spray at home using the following ingredients. Add one quarter cup white vinegar in three quarters of distilled water. Add the solution to a spray bottle and use it as a disinfecting spray.

You can add few drops of essential oil such as  lavender oil or tea tree oil. They can add an aromatic scent to your disinfecting spray. These oils have natural anti-fungal and antibacterial properties.

You can make an alcohol based disinfectant spray by adding 6 ounces of ethyl alcohol. Add few drop of essential oil, add enough water and hydrogen peroxide to the spray bottle and your disinfecting spray is ready. Because of essential oils, your disinfectant spray generates a pleasant odour.
Tip: Make sure not to mix any other chemicals or alcohol with bleach because when chemicals get mixed together, they may react.
Hire Professional Disinfection Services
          Professional disinfection services offer a lot of benefits. Therefore helping to keep the environment germ free and deeply cleaned. Here are the top benefits of hiring disinfection services in Dubai. 
1.They are professionals
Commercial disinfection services provide well trained and professional staff who are experts in disinfection services. They do it better than others.
2.Less Time Consuming
Commercial disinfection services provides professionals after giving right amount of training to use disinfectants and disinfection equipment. As they are all trained for this, it will take very less time for the process and hence does not waste your time.
3.Affordable rate
Disinfection services are available at reasonable prices. Unlike other services, you will be paying only for the service you've opted. You can hire a disinfecting service provider for office disinfection, disinfecting a particular space, rooms or your entire home. In commercial spaces, regular disinfection can also be done on air ducts and other areas to prevent pathogens from growing. 
4.Experienced 
Hiring a disinfection service provides you experienced and qualified professionals at your service. They are highly trained in this field and experts in disinfection services when compared to normal cleaning.
5.They are more focused
Experts know where to focus more in the disinfection process. They will pay detail attention to areas that are more prone to catch pathogens. They cover all high touch areas and as a result, they help to control spread of pathogenic diseases such as coronavirus.
Disinfection services by Offer Maids House Cleaning Dubai
          Offer maids House Cleaning Dubai is one of the best maids cleaning services in Dubai. In Offer Maids, we are dedicated to provide our clients with the best cleaning services for residential and commercial cleaning. We are also experts in excellent disinfection and sanitization services. Our expertise service ensure to kill 99.999% germs. The disinfection service removes all kinds of harmful bacteria, viruses and fungus.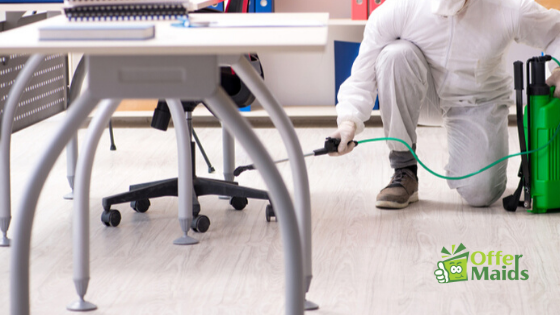 Our maids on hourly basis are well trained to deep clean and disinfect even the minute corners of your home or office space, thus kill every kind of pathogenic microorganisms. 
          We use hospital grade disinfectants that contains Bacoban and Vital oxides. All of the equipment and ingredients are bio-safe. Hence, our ingredients are safe to use and safe on kids and elderly people. 
          Offer Maids House Cleaning Dubai provides disinfection services provides a no-rinse formula which is less time consuming and less complex procedure. When comparing to traditional disinfection, no-rinse formula is more efficient.
          The expert services of Offer Maids House Cleaning Dubai offer reliable and trustworthy hourly maids. Expert maids do your window cleaning, kitchen cleaning, office cleaning, after party cleaning, laundry and ironing services in a breeze. Offer Maids provides expert maids who are well trained, and are provided with the best cleaning equipment and they are experienced with using the right cleaning tool and they focus on every minute corner to deep clean every inch of space to give a complete disinfection and cleaning which ensure you a total protection against different kinds of pathogenic bacteria and viruses which can cause various diseases and illness conditions like COVID-19 and other viral infections. We use non toxic cleaning products which are safe on you, your family and your pets.