Our world is going through a widespread and virulent pandemic season. Coronavirus, named as Covid – 19 by WHO has spread over more than 120 countries which make things scary. Let's do whatever we can do, to stay protected from coronavirus.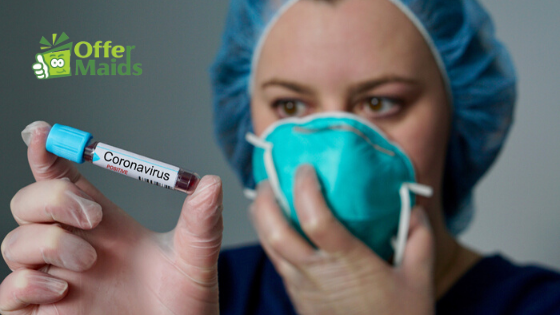 Here are a few tips to keep yourself protected during the novel coronavirus outbreak.
There's nothing we will gain from panicking. We need to be prepared to fight it. We already know a lot about the disease, the symptoms, the precautionary measures to be taken and the tests to detect the virus. There are news reports that the situation is getting better in China, where it originated from and it says lots of people have recovered from Covid-19.  Instead of getting panicked, we need to stay alerted and take the maximum precautions WHO have recommended to stay protected. Compared to other epidemics, we can see that the mortality rate of coronavirus is very less. An appropriate cleaning service in Dubai can definitely help you from staying away from the coronavirus.
UNICEF recommends washing your hands for at least 20-30 seconds and with sanitizor, with at least 60% alcohol in it,  rub it for at least 20 minutes to obtain full coverage. Also make sure that you avoid touching your eyes, nose or mouth with dirty or unwashed hands. 
Steps to wash your hands
Wet your hands with running water.

Apply soap to your hands.

Scrub both the hand, including all the fingers, between your fingers, nails, undernails, back of your hands and your wrists.

Rinse thoroughly with running water until the soap is removed.

Dry hands with a clean cloth and close the faucet with a tissue so that it won't be in contact with your clean hands.
Deep Cleaning, Sanitising and Disinfecting
According to the World Health Organization, the estimated survival period of coronavirus in a surface can be from a few hours to a few days. Here comes the need for a deep cleaning, sanitising and disinfecting your home and your work space. Prepare some household bleach solution, dilute it and and use it as a cleaning spray. Instead you can use any cleaning liquid with at least 65 to 70% alcohol content in it  or you can use rubbing alcohol for this purpose. Deep cleaning your home is a great way to make your home germ free. A professional cleaning service in Dubai will help you deep clean your home.
Sanitising reduces the number of bacterias or kills it and makes the surface dirt and germ free. You can use sanitising wipes or sanitising gels or spray available in the market to get this process done. You can wipe all hard surfaces and rub a hand sanitizer in your hand. 
Disinfecting your home and work space is equally important. Using a disinfectant kills germs on the surface where it is applied which lower down the risk of an infection getting spread. Using a disinfectant is effective in fighting viruses. You can even depend on a maid agency Dubai to help you with cleaning your home and offices.
Politely decline handshakes
Politely decline handshakes to avoid coronavirus. You can flash a friendly wave, a peace sign or thumbs-up, an elbow bump, the Japanese greeting, the bowing of head or an Indian namaste instead, as these are the most hygienic way of greeting people. Experts insisted to avoid handshakes and hugs due to the coronavirus outburst. There is recent news in BBC  about the Indian greeting Namaste goes viral as an effort to stop coronavirus from spreading between people.
According to an article, it says that coronavirus can live for up to 96 hours on our smartphones. And thus, it can be the fastest method of transmitting virus. Here comes the need for cleaning your phone's surface. You can clean your phone's screen and back cover by wiping it with an alcohol based solution or something with at least 55% isopropyl alcohol which helps to disinfect your phone and keep it germ free. Do not use excessive solution to clean your phone as it may damage your phone.
Stock up groceries, wipes and medicine
To keep yourself isolated make sure that you stock up groceries wipes and medicines which will reduce your chance of going out and this will avoid meeting large crowds. Also there is a chance for the items to go out of stock or shops getting closed due to the epidemic situation we're facing. There is a chance for some countries to temporarily stop importing and exporting which can cause shortage of items. Also fill in disposable medical items like gloves and masks as they can go out of stock very easily due to increasing demands.
Wear a mask or make a diy mask
Wearing a mask can protect from spreading coronavirus from person to person. Masks are effective only when used in combination with repeated hand-cleaning with soap or sanitizer. You can use a mask when you are going to a crowded place. It also prevents the virus from spreading through cough and sneeze. There are single use masks which we should not reuse as the bacterias can get into your nose and mouth if you reuse it.
A major problem we're facing now is shortage of masks. Don't worry, you can simply do-it-yourself a tissue into a single use mask. Here is the link to the mask tutorial that Anand Mahindra shared. Get yourself equipped with masks.
Stay indoors, Work from home, avoid large crowds
Staying indoors to avoid large crowds is the best way to stay away from Covid-19. You can opt for work at home and also don't let our kids go to school until the epidemic season gets in control to make sure that we are taking no chance to get into any situation where corona seems present.
Seek immediate medical assistance if you feel any symptoms or feel sick.
Do not do self medication if there is any symptoms of coronavirus, seek immediate medical assistance if your illness is worsening so that you will get right medication, which can save you as well as people related to you. Avoid public areas or using public transportation if you're sick.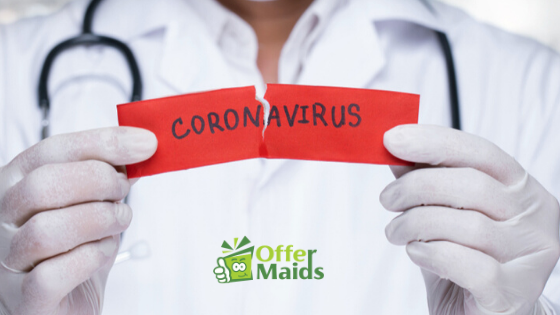 Best Cleaning Service in Dubai to Deep Clean Your Home
The best way to avoid a hectic deep clean session is by doing rountined cleaning which can reduce a lot of your cleaning stress. Offer maids, the best cleaning service in Dubai, will help you deep clean your home in this epidemic season and make your home healthy and hygienic. We offer hourly cleaning in Dubai. We are specialized in house and office cleaning, Party helping and pet care services.