Pro Tips To Remove Rust Stains According To Maids In Dubai
Rust stains, whether they are on our clothes, tiles or any surfaces, they are the most annoying things ever. We do a lot of things to remove it but sometimes none will work. It is important to clean them as quickly as you recognize it. The longer these stains are, the harder it is to remove them. Do you know that your kitchen has the best ingredients to easily remove rust stains from any surfaces.? Here are few pro tips from expert maids in Dubai to remove rust stains from any surfaces. – clothes, tiles, steels, marbles, metals and more. 
Remove rust stains from your clothes
Here are some of the natural solutions to remove rust stains from your favorite clothes.
Lemon Juice
We all know that lemon can be the best solution for a lot of cleaning problems. For removing rust stains from your clothes, lemon can really help. Boil some water and add a teaspoon of lemon juice to  a teaspoon of boiling water and apply the solution to the stained area in the clothes and let it sit for some time. Rinse it off giving a gentle rub. Repeat if necessary to get rid of all the rust particles on the cloth.
Salt
Sprinkle some salt on the lemon solution applied on your cloth and gently rub. Do not hard rub as this may damage your cloth. Make sure that you don't keep this mix to sit for a longer time as it damages the cloth. Keep it for a few minutes and rise it off. Wash the cloth thoroughly with cold water to remove any salt particles on the cloth.
Use commercial rust stain removers for clothes
There are a lot of commercially available rust remover products that keep the clothes stain free. You can simply apply them on the stained area and use a mild  scrubbing brush or an old toothbrush to give a scrub to the stained portion, and rinse it off after some time. Some products recommend the clothes to be wet down before the application and other demands a dry application. These rust stain removers work efficiently and remove stains completely with few uses. Wash the clothes with cold water after the application.
No more rust stains on metal objects
With these natural ingredients, it is easier to eliminate all the rust stains from your metal surfaces, tools or any objects.
Baking Soda
Baking soda works amazingly to remove rust particles from metal surfaces. You can use baking soda to remove rust stains from your metal tools. Clean and rinse your metal tools or pans and dry them well before the application. Cover all the rust stains with baking soda or you can keep them damp and dust some baking soda so that they will stick on those surfaces easily. Let this sit for 2 hours. You can use a scouring pad or a metal brush to scour it off. Once done, rinse it again with normal water and keep them dry.
White Vinegar
Like baking soda, white vinegar can fight well against rust stains on metal surfaces. Keep your metal tools deluged in white vinegar for a night. Scour it using a scouring pad or scouring wool. The longer you keep it in vinegar, the better the result is. This is an amazing way to remove rust off metal objects. If you are not able to submerge the object in vinegar, instead you can pour vinegar into the stained areas and keep it overnight for a better result.
Potato
Do you know that potato contains an enzyme called catecholase which helps to clear an and brightens. You can apply potato juice to clear dark spots on your skin. The same way if you rub potato on the rusted surface on your steel objects and add some liquid soap or dishwashing soap to the surface and rub firmly. Both of it will react and this inturn make the objects rust free. 
Keep your tiles rust free
Clear away rust stains from the tiles using these kitchen items.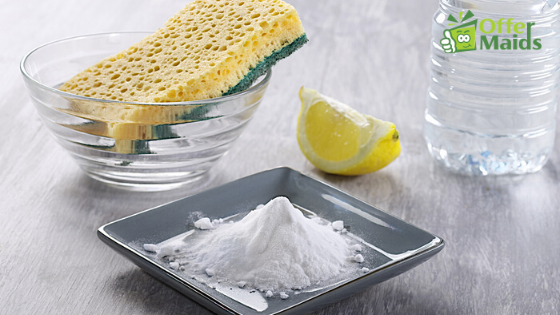 Borax
Make sure that you wear protective gloves before you start the application. Mix some borax with a teaspoon of lemon juice and make it into a paste. Apply this paste onto the stained surface and leave it until it completely dried out. Once done, you can use a wet cloth or a wet sponge to remove the stains. Repeat this process if needed.
Tomato
Tomato is not only good for cooking, it can also be used for removing rust stains from your tile floorings. The citric and malic acids present in tomatoes help to remove rust stains of cylinders from tiles. Cut the tomato into half and sprinkle some rock salt into it and rub it over the stain for some time. You can use a scrubber or an old toothbrush to give a nice scrub over the stain and this will remove the stains completely.
If you want to know more natural remedies for cleaning your home, Please vist our previous blog in this link Natural remedies to keep your home clean.
Hiring the best Home cleaners in Dubai
You can hire capable maids in Dubai for an impeccable deep cleaning. Best house cleaning services Dubai provides experienced home cleaners in Dubai where you can sit back and relax when they take care of your cleaning chores. Professional maids in Dubai are experts and they know the techniques to efficiently clean the stubborn stains such as rust or grease deposit. Another advantage of hiring maids in Dubai is that they offer convenience. You can hire them at your preferred time. They are equipped with the right tools for cleaning every corner of your home.
Worried about finding the right home cleaners in Dubai? Offer Maids is your best solution for all of your cleaning needs. From home cleaning to pet sitting, offer maids offer the best in town hourly maids in Dubai for a seamless cleaning experience. Our maids are background checked, well-trained, trustworthy and reliable. We offer wide ranging services including residential and commercial cleaning across Dubai. Book your maid now itself and experience an impeccable service.