Tips To Deep Clean Upholstered Furniture By Top House Cleaning Services Dubai
Whether you've just got stains or your furniture turned dusty, these cleaning tips from the top house cleaning services Dubai will make your upholstered furniture looking as fresh as new.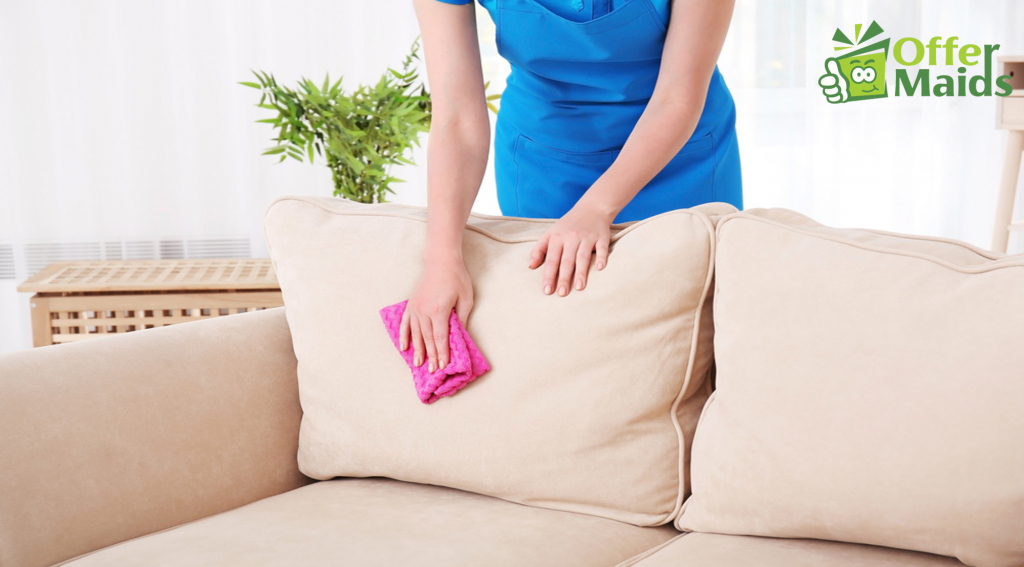 It's time to give a quick refresh to your upholstered furniture and deep clean the furniture to make it look good, dust, and dirt-free.
If you are looking for the best way to freshen up, deep clean and sanitize upholstered furniture at your office or home, then this blog is for you. Here are the quick and easy upholstered furniture cleaning tips by top house cleaning services in Dubai.
Vacuum
The first process towards cleaning your upholstered furniture is to vacuum it. The cushions can easily attract dust and debris. Also, pet hair, food crumbs, and other particles will get accumulated on the furniture which in turn results in dust allergies. House cleaning services Dubai recommends to vacuum furniture at least once a week. You can also use a hand vacuum to make the furniture dust free. If there are a lot of pet sheds in your furniture, you can use a lint roller to remove pet hair and then vacuum it. Lint roller can reach those areas where your vacuum cannot reach.
Throw Pillows
Throw pillows come in different fabrics and hence, never forget to check the tag to know the washing instructions. If the throw pillow has a pillow cover, separate the pillow cover and the pillow and wash them separately to prevent color bleeding and fading of the fabric. Wash the pillow covers inside out in cold water. Some pillows cannot be laundered. You can simply toss such pillows in the dryer on a medium to a high-temperature setting. House cleaning services Dubai suggests to put some clean tennis balls in the dryer along with the cushion to make them fluffy.  
Instant Upholstery Freshener Spray
You can make your own instant upholstery freshener spray at home by using these simple ingredients available at home.
Get an old spray bottle and add a half cup of water to it. To the water, add a quarter cup of rubbing alcohol and shake it well. To add fragrance, you can use any of your favorite essential oil. For example, add a few drops of lavender essential oil. You can also mix up essential oils to get the scent of your liking. Shake it well before you spray it onto surfaces. After spraying, you can gently wipe it with a cleaning sponge.
Read Also: Maid Agency Dubai About How To Clean Refrigerators Like A Pro
Make Your Own Leather Upholstery Cleaner
Create your own leather upholstery cleaner at home using these commonly found ingredients. Mix a half cup of olive oil into a spray bottle. Add 3 tablespoons of vinegar into it. You can also add some drops of your favorite essential oil into the solution to add fragrance to the cleaner. You can spray this cleaner on leather upholstery and use a clean cloth to give a wipe.
Use Baby Wipes to Clean Upholstery Furniture
Did you know that baby wipes are amazing upholstery cleaners? Baby wipes are rich in moisture and it helps to keep the upholstery furniture clean. Baby wipes work really well when it comes to a variety of materials – leather, polyester, or cotton. Simply wipe your upholstery with baby wipes to get shine, and also to get rid of tiny spots and dirt. 
The moisture content present in baby wipes helps to remove specks of dirt from the surface of your upholstery furniture. They can also be used to remove spots from rugs or carpets.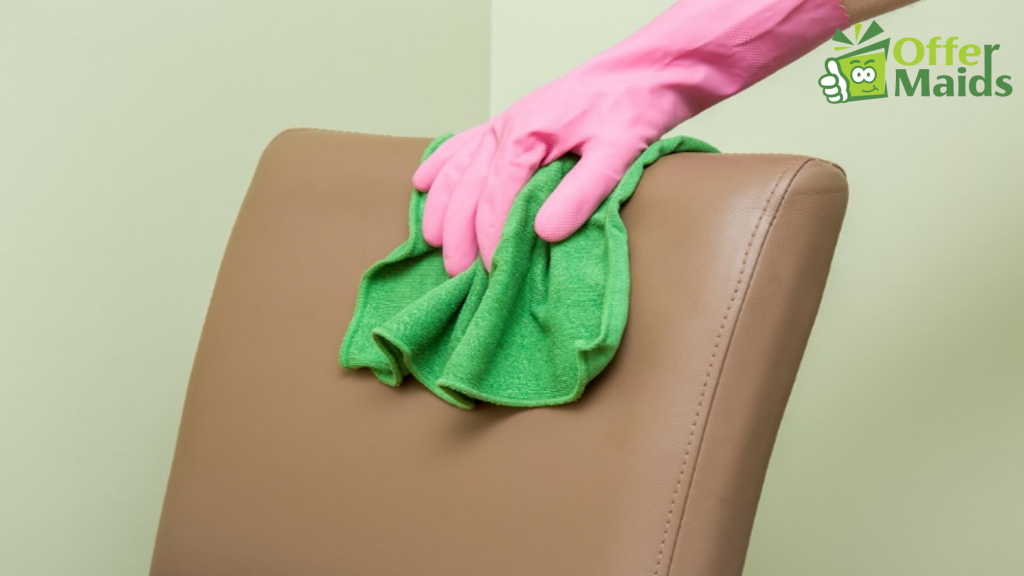 Use Baking Soda To Remove Dirt
Baking soda works great when it comes to cleaning the couch. It helps to remove grime, dirt. Baking soda also keeps the surface odor-free. House cleaning services Dubai recommends to do a fabric test to know whether the application of baking soda is safe on the surface of the upholstery furniture. 
Firstly, use a stiff brush to brush away the dirt and dust particles on the surface. Then, sprinkle the surface with baking soda for at least 30 minutes and then remove it. Baking soda absorbs the odor and dirt from the surface and adds an instant shine to the surface.
Hire Cleaning Experts From Top House Cleaning Services Dubai
Offer Maids is one of the best house cleaning and office cleaning company Dubai from where you can hire experts to take care of your home and office cleaning. Our cleaners are professionals who are well-trained and experienced in cleaning. If you are looking for a reliable cleaning service then, Offer Maids can be your best option. Our cleaners can take care of all your cleaning chores while you relax and spend time with your family and friends. So sit back and relax, let experts do the cleaning.