Clean Your Pillows Like A Pro – Tips From Maids Services Dubai
Top tips from maids services Dubai about cleaning any kinds of pillows like a pro.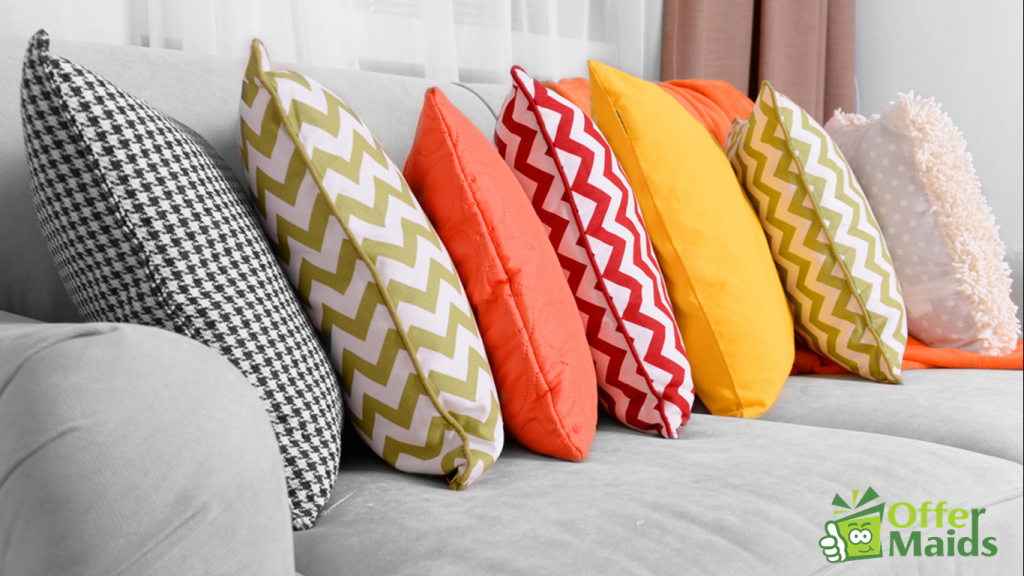 Pillows are an essential part of our day to day life. Our heads need them every night to comfortably sleep. Everyday use of pillows can make turns dirty, faded, and germy. Since we need them every night, it's important to keep pillows clean, and free from germs. 
Washing and vacuuming keep your pillows clean and fresh, at least three or four times a year. Pillows can be of different types. They can be down, form, or fiber pillows.
Here are some expert tips from maids services Dubai on how to clean your pillows like a pro. 
Throw Pillows
Throw pillows are amazing home decors and are pleasing. They add up a fresh look to your interiors. Throw pillows come in vibrant colors and it is important to clean them carefully to maintain these vibrant colors.
The first step towards pillow cleaning is that you need to find the best cleaning technique for your pillow. Most pillows are labelled with the manufacturer's wash instructions. Some pillows care washable, some can only dry cleaned. When it comes to fabric materials like velvet or silk fabric can be dry cleaned. 
Polyester throw pillows can be washed with water using a mild fabric. You can also use upholstery shampoo to clean soft pillows using the sponge cleaning method. 
Foam Pillows
Vacuuming a memory foam pillow once a week keeps you pillows free of dust and germs. Hand washing is advisable for foam pillows. 
As they are delicate, make sure you do not scrub them too roughly. Harsh cleaning products can damage your foam pillows.
To add a nice fragrance to your foam pillow while cleaning, you can fill in a bucket or a sink with some lukewarm water and add a few drops of your favorite essential oil in it. Add a little amount of mild detergent and make it into loather. 
Now gently immerse the foam pillow in it. After a few minutes, squeeze out the lather and repeat the process with clean water to remove all the detergent from the pillow. Squeeze out the water gently and you can air dry the pillow or keep it under sunlight for drying.

Cotton Pillows
Cotton pillows are free from synthetic materials and hence they are most-loved as they are completely natural and hypoallergenic. They are more breathable when compared to synthetic and that is why they stay cool against our skin, says experts from maids services Dubai.
You can machine wash cotton pillows. Make sure that you remove pillowcases before washing them. You can wash each pillow separately so that they won't get stuffed inside the washing machine. If your washing machine is big enough, you can put two pillows at the same time. Along with detergent, you can add some fabric softener for better results.
For drying, either run the washed pillows on a dryer on a low setting or you can dry it under the sun.
Feather Pillows
Feather pillows are soft and lightweight pillows, and they last longer than synthetic pillows. These pillows are known for their comfortable softness and luxurious feel they provide. These pillows are very easy to maintain. Most of them can be easily machine washed and dried.
Feather pillows easily fit inside the washing machine so that you can wash up to two pillows at the same time in cold water temperature. Washing your pillow at a hot temperature may cause shrinkage of your pillows. It is recommended to wash pillows in cold water. 
You can use any gentle detergent to wash your pillow. It is a good practice to add an extra cycle when rinsing as it will ensure that all of the soap particles will be rinsed off completely. You can dry it normally in a dryer.
Fiberfill Pillows
Fiber pillows are so popular nowadays. High-quality fiberfill pillows provide the best support levels and they are resilient. Gel fiber pillows are very much supportive. These pillows are filled with materials such as polyester gel fibers. Thus, they provide the best support.
Maids services Dubai suggests to remove the pillow cover before you wash them. Use a large load cycle with temperature in a warm setting. You can use a mild liquid detergent for washing the fiberfill pillow. 
Rinse the pillow really well so that all the detergent particles will be removed from the pillow, an extra rinse will work in such cases. You can machine dry the pillow once it is rinsed.
Down Pillows
Similar to feather pillows, down pillows too are lightweight pillows. These pillows are very soft pillows and that is why most pillows love down pillows. They are durable and provide more comfortability and as a result, down pillows are much suited for almost all kinds of sleeping positions. 
Maids services Dubai advises to follow this method to wash your down pillow like a pro. Remove the pillow cover and wash the cover separately. Select the delicate setting and use cold water wash or warm water wash setting. Use liquid detergent for a better wash. The highest possible spin will help to remove all the moisture oil out of your pillow. Like other pillows, a two rinse cycle will work well for down pillows. You can gently press the pillow to rinse off excess water and dry it under sunlight. 
Book Expert Maids Services Dubai For Your Laundry Needs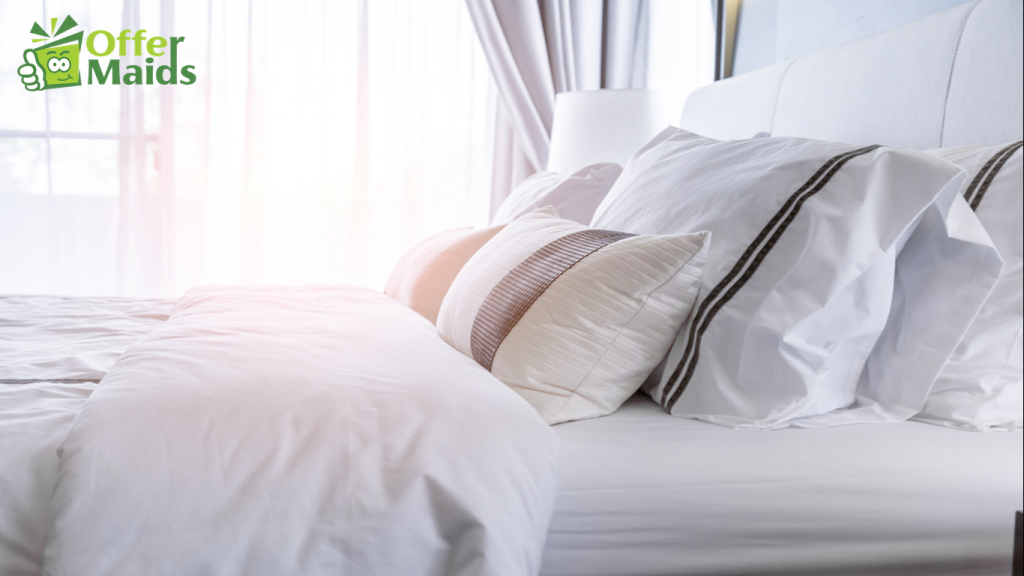 Hire experts from top maids services Dubai for all your laundry needs. If you want to know more about laundry, please visit our previous blog here What is laundry according to cleaning companies in Dubai?
Offer Maids, one of the leading maids services Dubai expertly satisfies all of your cleaning demands including laundry and ironing needs, residential and commercial cleaning, disinfection services, party help, and pet care services in Dubai.