Introduction:
After a gap of four years, FIFA's premier football event, the world cup, has returned. Throughout those four years, we have eagerly waited for it while enduring many challenges due to the pandemic. We are in a euphoric mood and have a good reason to be joyful. FIFA will take place in Qatar starting on November 20, 2022. Since its founding on December 15, 1993, FIFA has developed a sizable fan base worldwide. The last World Cup was held in 2018 in Russia and the final was played in Luzhniki stadium between France and Croatia in which France won 4-2 and was given the championship Russia was eliminated in the quarter-finals a total of 32 teams participated in the event in eight groups where four teams in each group in the final Mario Mandžukić  made history by scoring a self-goal against France.
The opening match was played between Russia and Saudi Arabia in which Russia defeated Saudi Arabia by 5-0.
British pop Singer Robbie Williams performed during the torch ceremony followed by Russian soprano Aida Garifullina.
This year's FIFA world cup will be held in Qatar and the first match will be played between Qatar and Ecuador at Al-Bayt stadium on November 20, 2022, at 7 pm.
This year also 32 countries will be participating in FIFA and all eyes will be on France to see if they are able to retain the title. Brazil has the highest number of world cup titles 5.
The official mascot of FIFA is Labeeb meaning a wise player and the official anthem is "light the sky", and the official slogan is "now is all".
This year the following stars will perform for the opening ceremony event BTS K pop star Kim Jung kook, American musical group Black Eyed Peas and Indian dancer Nora Fatehi.
So let's keep our fingers crossed for this event as Dubai too has a huge fan following and loves football.
Dubai's love for FIFA 2022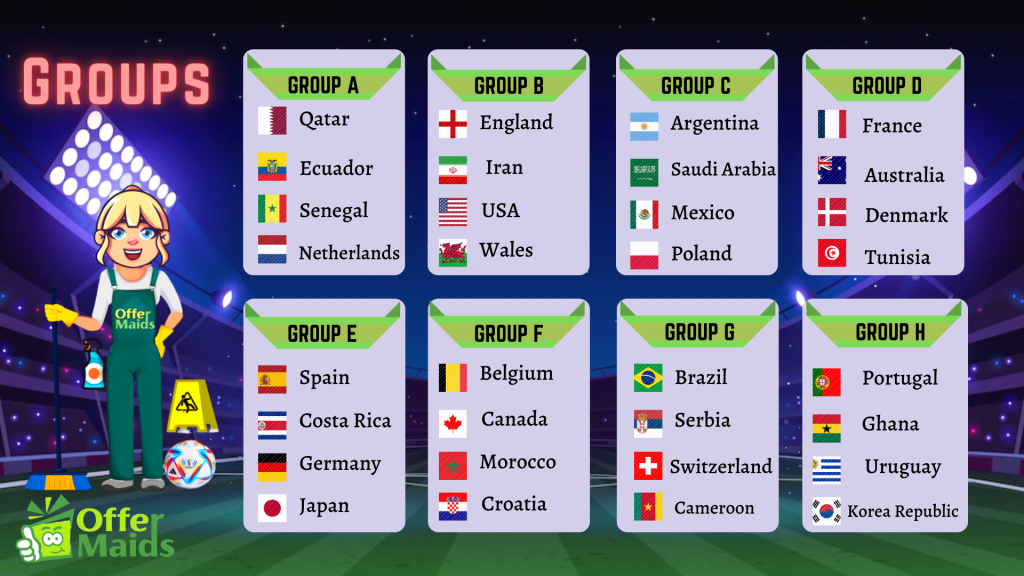 During the course of the pandemic, the world has suffered a lot of emotional, financial and mental stress loss of loved ones job insecurities nobody ever believed that one-day things will get back to normal
But now by the grace of God things are under control. All the sufferings for the last two years in the world have finally come to an end. Now is the time for joy to relax with our loved ones in a clean and friendly environment. Why do we fall? So that we can come back strongly once again and yes the people of Dubai have risen back once again and this time to cheer and support FIFA 2022.
Dubai's love for FIFA can be unmatched by any other country in the world. The Emiratis and expats love FIFA equally and all are waiting for it. People here watch football in PUBS, offices, and restaurants while having food or at home with their friends and family. Here you can see that from school days onwards children are given proper physical training, especially in football and matches are held at all levels to boost sportsmanship. Dubai is a great place for sports, especially football.
Now the important question arises: what if these places are not cleaned properly? What if these places have hidden germs? What if these germs and dust enter your body and spoil your entertainment and health? What if you fall sick during the event or after the event if these things are not taken care of properly? During such big events, we may forget to take care of the importance of cleanliness.
Sometimes the best remedy is instead of getting panicked. We have to take protection for our loved ones and our family.
Suppose you are a couple working in Dubai and crazy football fans and after a tiring day in the office you come to your house to watch a football match but what if your house is not clean will you be able to watch the game properly or what if the Pub that you are running in Dubai and during the night time when you are getting business as majority of the people will come to watch the match and have a cup of beer if your surroundings are not clean do you really think people will visit your place again? No, they will not
This is the right moment for the hotel and pub owners in Dubai to think about the importance of cleanliness in their ventures before this event.
If you are watching the match at your office in the evening with your colleagues after finishing your work or in between your work just to relax your mind and if your office is untidy it will always create an unpleasant atmosphere and will destroy the mood and no one will be interested to stay there.
A strong mind always discusses ideas and ways to find solutions for problems and now we will discuss and give a clear-cut solution for this problem.
Labeeba who is she and how can she help you?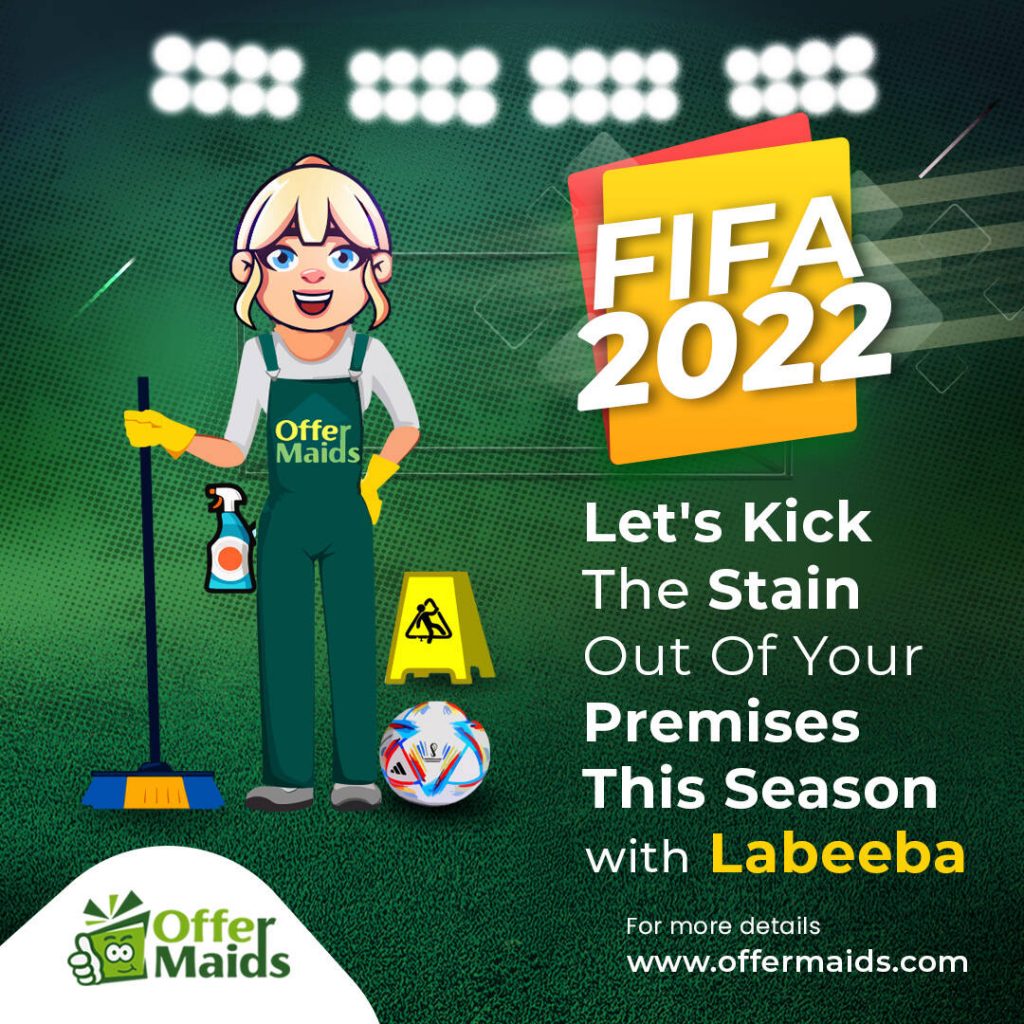 A nation under the reign of a powerful king, or the birthplace of the king one-day germs and viruses entered that nation secretly wearing a fake identity and they spread everywhere very fast killing many innocents and killing many people when things were getting out of control. An angel of wisdom who was hiding in the darkness and was spread in her lighting till that time entered the scene like a thunderbolt and took matters into her own hands.
She became a mother, a wife, a friend, and a sister to all the people suffering and cleaned the entire nation from this germs attack all by herself.
Labeeba, our iconic symbol, is the story of every woman at offermaids and her day-to-day life struggles for keeping her loved ones safe.
Her message to all the germs out there if they are listening: She will definitely find you if you are hiding or in open and strike you down if you attempt to destroy her people and will make her people realize that she is the powerful Friend against the germs.
She is like a guardian angel that always keeps her protection open for her people by cleaning the entire premises just to keep all the places in Dubai safe from viruses and germs.
Sometimes all heroes don't wear capes and they don't need any medals and recognition. They are silent warriors who just come and carry out their jobs properly and disappear like an angel and Labeeba is a perfect example of one such hero.
Like you Labeeba is also a very football fan and she plays her game very well and is always excited about the match like her job.
The special quality of Labeeba is that she will provide you with all the live updates and match timings of the countries playing matches each day and the win probability through our social media channels
Labeeba will clean your house, offices and pubs with her broom and advanced equipment and methods so that you all are safe from germs and dust during the course of the FIFA.
Her broom is like a magic wand and her methods are like magic spells that will change the place with a swish wave .
Labeeba and Offermaids Dubai
Labeeba describe our core values at offermaids Dubai and what we stand for as an organization. 
Our principles and guiding light the best cleaning company in Dubai represent a purpose and values in our business. We value people and we care about ethics.
We women at offermaids take every task assigned to us as a challenge and do our best at it.
From the day of our inception till now our work is always meant to impart values and keep all the places here in Dubai neat and clean at easy and affordable charges.
Our maids give their best when they enter work and we take care of every cleaning activity for your safety.
We offer services such as office cleaning where we clean your entire office and will make it free from germs and house-cleaning window cleaning, laundry and ironing and party helpers. If you are looking for a professional cleaning service company in Dubai please check out our website. It is the best in this business.
While you enjoy the event with your friends and family we will take care of cleaning your house, your premises and your office space and will not allow any unwanted substances to destroy your entertainment.
We know FIFA has arrived after 4 years and we don't want to spoil your mood so just book an appointment with us if you are an organization, pub or family and our maids will always be there at your service according to your convenience.
We will clean your premises with the latest technology and top-trending methods and all our staff are very friendly and well mannered and will give you no chance for a complaint.
Conclusion
Cleaning a place before the beginning of a great event has been a tradition in the history of mankind and we urge you to follow that for your safety we are there for you. We want to make sure you are safe while you enjoy the event with your loved ones and be happy with a pleasant smile on your face ." Cheer for your favorite team and welcome Labeeba together. Let's say "Now is all" and enjoy FIFA 2022. Our favorite team is UAE. Which is yours?