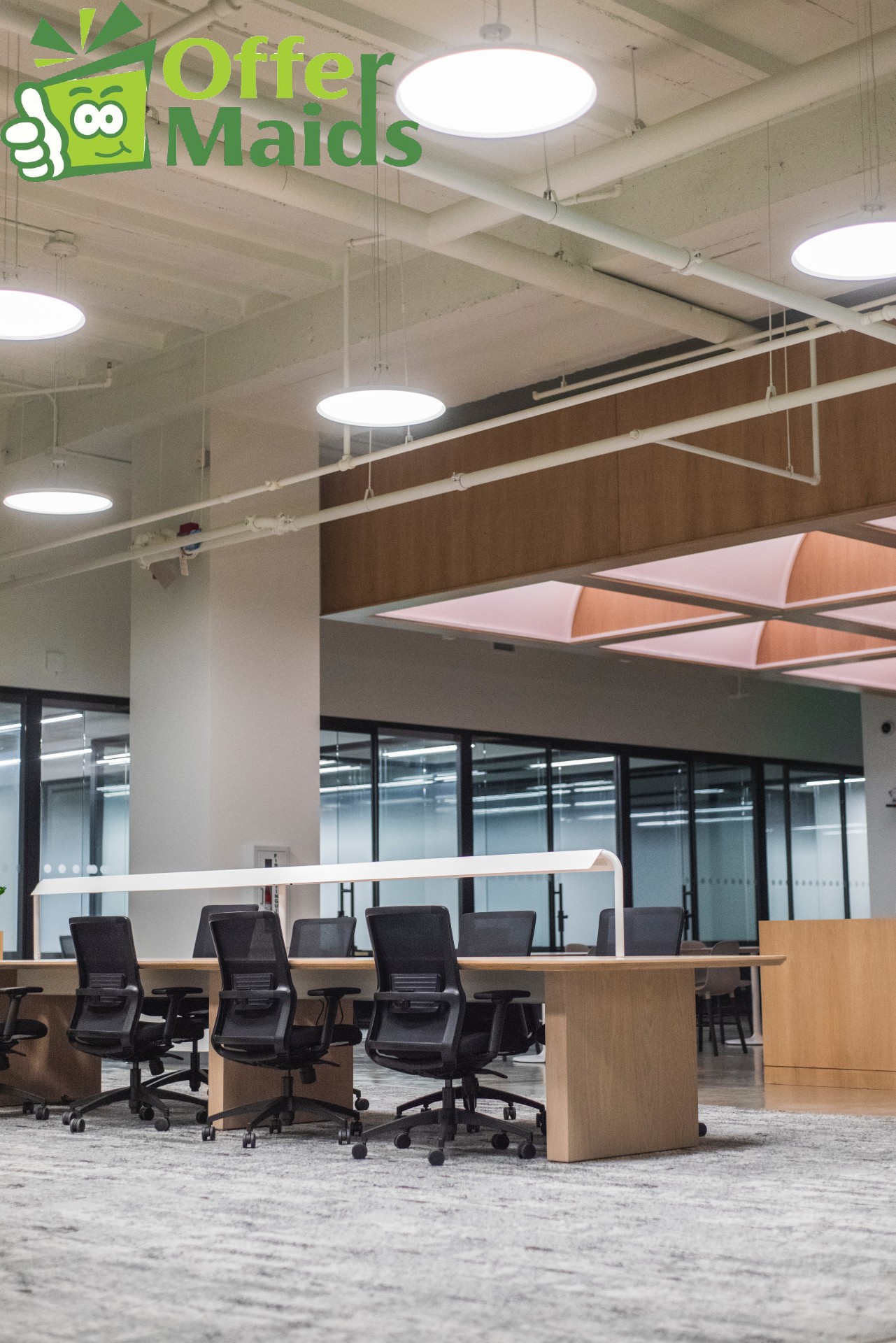 A workplace should be neat and clean .Because only a healthy working atmosphere can get a better result. But sometimes in our busy work we don't have enough time to notice dust and dirt . There are some places full of germs, dust and dirt that remain unnoticed by employees and business managers.
We can relax and do our job by relying on a professional cleaning company .
There are cleaning companies that provide hourly maid service and office cleaning . Offer Maids provides the best office cleaning services in Dubai. Offer maids provides expert maids for commercial cleaning services. Clean and organized office is important to maintain a healthy and good working environment for your staff.
How often you should clean your home depends upon many factors like number of employees, type of business you have , and how big your building is .
Through this article you will learn how often you should clean your working environment . 
There are different factors that determine how often to clean your office with the help of a commercial cleaning service agency. During this covid 19 pandemic  almost all companies choose to work from home  . And now some of them have opened and some are continuing work from home. So an unoccupied office doesn't need frequent cleaning compared to an active office environment. The number of employees in the office also determines how many times a professional cleaning service needs to be.
 Here are some factors you need to consider when you think about how often you need a cleaning service for your office.
Is your office building sharing with other companies
Sharing your office building with other companies increases the total number of staff in that building . and it leads to high traffic in common areas and it may cause dust, germs in common areas.
 So you need a monthly disinfection and cleaning in most traffic areas like door knobs, tables etc..
Type of company you are sharing with is also a factor . For example, if it is a doctor's office , you will need a daily cleaning schedule to keep the patients healthy also . Also there is a risk of contagious diseases because there are so many patients visiting the doctor's office .
Same rule should apply if you are sharing the building for a daycare  or building with facilities for children . Children can easily contact germs and bacterias . Keeping the area where they play and eat should be clean to prevent from causing illness and to keep them healthier and happier. 
Suppose you have only virtual clients or without regular visitors don't need to clean frequently .You may only require occasional cleaning .
Regardless of how often you should clean the office , your office common areas and kitchen should be clean daily.
How many employees are working in the building
The level of maintenance and cleaning depends on the number of employees also.If you have more than 10 members in your firm you need a commercial cleaning weekly. Higher number of staff in the building will increase the amount of dirt and dust.
So you should deep clean your office with the help of a professional cleaning service once a month.
Type of business
If you are running a school or restaurants , your building needs a daily cleaning routine for a safe environment. An industrial business without a lot of staff and visitors may not need daily cleaning. Public spaces of your office building like bathrooms and reception need to be well kept.
There are so many cleaning companies in Dubai that offer a range of housekeeping services at different rates. But are you looking for reliable cleaning companies in Dubai that provide the best quality services at affordable rates? Then you are in the right place. Offer Maids provides the finest and incomparable house cleaning in Dubai.