Parties are essentially social gatherings where people gather around for exchanging conversation, to socialize and engage in recreational activities. Parties are usually held with regard to a joyous occasion like a person's birthday, marriage or with regard to a special occasion like iftar, Ramadan, etc. Thanks to the influence of western culture and the ready availability of party cleaners in Dubai, Dubai is being hosted to a number of nontraditional parties like –
Tea party– Tea parties are formal afternoon gathering's where people gather around for drinking afternoon tea, tea parties are usually held by people belonging to the Anglo-American culture.Thanks to popular culture nowadays tea parties are conducted by people belonging to all cultures and are mostly hosted and attended by women.
What sets tea parties different from usual parties is mainly the tableware used, here you won't be seeing any crystal glass wares or glass bowls instead of clean-cut glasses we can see fancy china and silver wares.
Cocktail party – A cocktail party as the name suggests it's a party where the cocktail is served and the hosts and guests will be wearing cocktail dresses and cocktail hats. Thanks to the easy availability of party cleaners in Dubai cocktail parties are becoming more common in Dubai.
Garden parties – A garden party is more formal than an outdoor party and is usually held in a garden or a park. Garden parties are a favorite pass tine of the rich and affluent, it's one of their favorite pass time where they will gather around in an open garden belonging to the host where they will enjoy barbeques, steaks, salads, etc.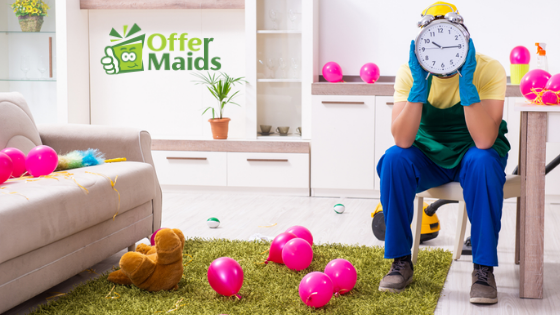 Arif and Irfan party
Arif and Irfan are twins, they have been living in Sharjah for the past 15 years with their parents Muhammad and Raziya. The brothers have cleared their Sat exams and are eagerly awaiting to get their visa approved to go to the US for their undergraduates. Since the brothers will be going away so soon they decided to throw in a party for all their cousins and friends. Their parents were not against them throwing a party but they don't want the house to be sabotaged. Therefore, they wanted the brothers to promise that they will be careful and will clean up everything after the party.
The brothers decided to kick start their party preparation by preparing a guest invitation list, and they used Google forms to create a party invitation list. They send it to all of their guests 2 weeks prior to their party on July 18th when their parents will be out of on a business trip.
Next, they needed to prepare the menu for the party. They scoured over the sites of various eateries in Dubai and decided to create a menu consisting of BBQ, biryani's, salads and desserts.  Then decided to hire a local catering company owned by one of their friend Ahmad. Ahmad agreed to give them the friends and family discount to the brothers. After the call with Ahmad, the brothers remembered they have completely forgotten about making arrangements for entertainment.
Arif and Irfan decided to ask their cousin Faisal to be their DJ and warned him to keep the beat down as they didn't want to cause any inconvenience to their neighbors. With the venue for the party and the food is already taken care of the brothers needed to prepare a strategy to deal with the after party cleaning. The brothers referred to the sites and blog posts of some famous party cleaning services in Dubai to understand how to organize their party in an efficient manner.
Finally, the day of the party came. The brothers were throwing the first party of their life all the reading they have done about throwing a party from the websites. The accounts from their friends couldn't prepare for what was going to happen. Once the DJ music started it was pandemonium, the bothers lost track of what was happening around them. Then the party was finally over and with the last of the guests left they were looking at their house. It was as if the house was hit by a tornado, everything was topsy-turvy and they didn't know where to even begin. The next day their parents will be home so they decide to hire the services of a cleaning company providing party cleaning service in Dubai.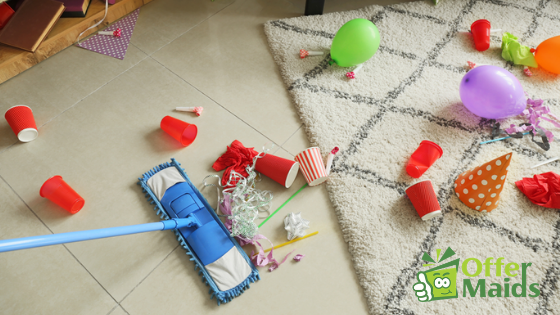 They decided to hire a maid from offer maids Dubai, who employ one of the most efficient party helpers in Dubai, they went to the website of offer maids Dubai and booked a party cleaner for 2'o clock afternoon. At sharp 2'0 clock they heard a rung in the doorbell when they opened the door they were greeted by a maid from offer maids.
First of all, she collected all fragile glassware in a plastic bag and hand washed them one by one.
After she had cleaned and neatly arranged the glassware back into their mother's showcase
Next, she started removing the spills and crumbs of the food which were lying all over the place.
After she has taken of the glassware and food stains, the house was slowly returning back to its formal shape.
Now she took out a microfiber cloth and cleaned the windows, doors, and mirrors to remove smudges and fingerprints.
She used a disinfectant to clean the door handles and tables to add the finishing touches.
When the cleaning was finally over their house was back to its former self and they were happy that they didn't have to face the wrath of their parents. The brothers tipped the maid from the cleaning service generously and decided the next time they throw a party in Dubai they will let the party helpers in Dubai deal with the after party cleaning activities.
Tips from party cleaning services in Dubai that won't mess up your home
Before the party begins to make sure everything in your house is in its assigned place and nothing is out of order. When we are throwing in a party it's important that we throw in the party in a neat and clean house in order to make a good impression on our guest's mind.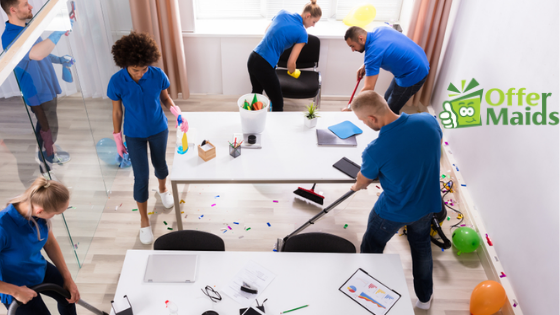 Avoid messy foods- Alfama, chicken gravy are dear to us all however, they are greasy and tend to leave messy stains that are hard to remove. So avoid tandoori and thick gravy dishes as much as possible and substitute them with biryanis or BBQs.
Avoid fancy dinnerware- We are throwing in a party so make sure you don't use any of your mum's fancy crystal wear to serve soft drinks, glass and crystal wears tend to break easily. According to party helpers in Dubai it's always better you use disposable cups and plates therefore, they can be easily disposed of after the party.
Some doors should be closed– Since you are mostly going to throw at the party in your own house some rooms should be off limits to your guests, you don't want any of your friends to walk into your parent's room or that of your sibling's and mess up their stuff.
No cleaning during the party- You shouldn't bother with the cleaning as the party after the party starts. If it's a party your place is bound to get dirty, so its better you do the cleaning after the party is over.
Keep your tools nearby- It's always better to keep essentials cleaning items like clean cloth, a spritz bottle with cold water, etc. nearby, so you can engage in your after party cleaning activities.
Readily after the party is over- If you were to clean up readily after the party is over, you can deal with the drinks and juice spills with min effort.
Keep a trash bag and a tray nearby- If you were to keep a trash bag and a tray nearby, so your guests can dumb the waste plates and glasses in the bag. With all the dirty dishes and glasses piles up in one place you can easily dispose of them after the party.
Throwing in a party is not the tough part, it's the cleaning up that follows the party that's tough. So follow these steps and you have the recipe for throwing the perfect party or you can just make a call to Offer maids, we provide before and after party cleaning services in Dubai at affordable rates.