Cleaning your curtains the right way
Any homeowner can tell you how important curtains are to your home's appearance. They help reduce the amount of dust that comes in your home through your windows and allows you to change the ambient light in any room according to your needs. But when curtains get dirty, their aesthetic and functional value is reduced: dusty curtains make the room dusty when moved, and dirty curtains block out more sunlight, making your rooms look musty and dark.
Apart from the aesthetic value of your home, if you have any dust allergies, regular curtain cleaning is the first thing to do to prevent allergic reactions. You could also hire home cleaners in Dubai to deep-clean your curtains at least once a month. Read on to find the various ways you can take care of your curtains to keep them looking fresh as new.
Weekly cleaning routine
Even if you hire professional Dubai house cleaning services for your curtains once a month, integrating curtains into your weekly cleaning routine can help reduce the dust buildup. This can also help keep your curtains look spotless between washes.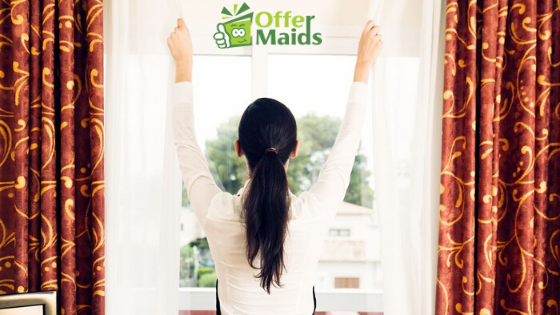 Before you clean any room, shake up the curtains to remove any accumulated dust. You might need to wait for a couple of minutes until the dust settles before cleaning the floor and furniture in the room. Use a vacuum attachment to clear away any lingering dust on your curtains.
Cleaning for all kinds of curtains
Curtains come in all shapes and sizes, but one thing common to them is the fact that they attract dust, dirt, and grease. Since these tend to accumulate and damage the curtains over time, as well as affect your health, you would need to clean these curtains as often as you wash your bed sheets.
Fabric curtains
The most common kind of curtains, these tend to have the most dust and dirt buildup. But even though they are the same material as our clothes, we do not pay much attention to fabric curtains as often as we do our clothes.
Before cleaning them, remove all fittings and hang them outside to remove loose dust and dirt. Set the laundry machine on the COLD setting and run a cycle with two panels each. When drying, set it to low heat to prevent any damage to the material. Do not leave them in the dryer for too long as the fabric might get wrinkled easily. Rehang the curtain panels and allow them to dry completely.
Lace and sheer fabric curtains
Machine washing these curtains can damage them because they could become wrinkled and snaggy when wet. Home cleaners in Dubai recommend a thorough but careful wash by hand to remove any accumulated dust.
Before washing, remove the curtains and take them outside your home to give a good shake, removing any loose dirt. Fill a wide basin with cold water and dish washing solution. Soak each panel in the soapy solution for about 10 minutes before swirling them to remove dust. To remove the soap from the material, wash each panel in cold water for a minute. Finally, hang them out to dry before re-assembling them.
Bead/Shell curtains
These materials give an elegant appearance to your windows, but cleaning them can be quite worrisome as they tend to get knotted easily. So instead of taking them down for cleaning, home cleaners in Dubai recommend a simpler method.
Hang a bed sheet behind the curtains and fasten them with clips. Spread a couple of paper towels beneath the curtains. Mix warm water and dish washing solution in a spray bottle and spray the curtain material thoroughly from top to bottom. Use a damp microfiber cloth to wipe down the dust and dirt, focusing on grimy spots, if any. Remove the cloth from behind the curtain and leave the windows open to let the curtains dry.
Velvet fabric curtains
Most velvet curtains need to be dry washed, so check their label to make sure that you follow the right washing guidelines to prevent any damage to the material. Check your velvet curtains if they are colorfast by putting a damp white cloth to an inside edge. If the color leaks to the cloth, it needs to be dry washed by professional home cleaners in Dubai. If not, you can wash them by yourself.
For colorfast velvet curtains, set the laundry machine to DELICATE wash and run a cycle with cold water. Be careful to use about half the amount of detergent that you would otherwise use on such a load size. Do not place them in the dryer after washing. Spread the curtains on a clean sheet and let them dry thoroughly before rehanging them.
Dry-clean only curtains
Some kind of curtains come with clear labels that say they should only be dry cleaned. Even if they are not mentioned, if you don't wish to ruin an expensive piece of drapery, you can dry-clean them by yourself or look for house cleaning in Dubai to help dry clean them efficiently.
If you are dry-cleaning them by yourself, put one panel at a time into the machine and run a DELICATE cycle with cold water. Remove them immediately after the cycle to prevent wrinkling. Do not put them in the dryer as it will most likely cause the lining material to shrink. Hang them out on the laundry line or spread them on a clean sheet inside to get them thoroughly dried.
Professional home cleaners in Dubai
Dubai house cleaning services recommend getting your curtains professionally cleaned at least once a month. However, between home and work and social life, keeping your curtains spotless is a tough task. And you would be confused when looking at the numerous home cleaners in Dubai advertising themselves as the best curtain cleaning service. Well, you can rest assured that the hardest part of the process is finding the right cleaner for your curtains' specific cleaning needs.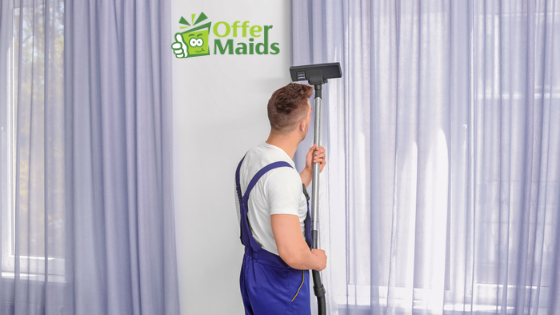 When you choose Offer Maids for your curtain cleaning, we guarantee you that they will look fresh as new after we are done. We provide comprehensive cleaning solutions for your home and office curtains at affordable prices. We put your satisfaction above all else when it comes to the quality of service.