Tips To Organize Makeup Drawer
Everything you need to know about organizing your makeup drawer by the best cleaning company in Dubai.

Clean The Drawer
In today's situation, we know how important it is to keep things clean and disinfected. You can start with cleaning and disinfecting the drawers. Before you clean, empty all the primary and secondary drawers. Do not forget your makeup pouches and purses. Once things are out, use a microfiber towel or a cleaning sponge dipped in a mild cleaning sponge to wipe down the drawer. For sticky stains add a few drops of rubbing alcohol onto it and wipe it. Use a disinfectant spray or a disinfectant wipe over the surface to kill the germs. After cleaning the drawers you can start organizing it.
Discard things you don't need
Take all the cosmetics out of the drawers and place them in one place. Placing things together will help you sort your cosmetics according to their purpose. Check the expiry of products and discard those which you cannot use. You can also donate some of the products that are still in good condition or unused which you do not use. You can group products on their usage as some cosmetics are for everyday usage and some are for occasional. Keep the travel makeup products in a travel pouch. This way you can arrange products and use them without mixing up the entire cosmetics. 
Read Also:Tips To Deep Clean Upholstered Furniture By Top House Cleaning Services Dubai
Repurpose old trays and storage organizers.
You may have kitchen containers and desk organizers in your home. Repurpose these units into your beauty storage areas. Use containers of different sizes to keep large and small cosmetics. Use anything from cardboard containers, plastic boxes to shoe lids to make beauty containers of your own. Grab an unused utensil tray from the kitchen and use it to keep makeup brushes and cosmetics that come in narrow tubes. You can also use transparent pencil boxes for the same purpose. Keeping things in clear containers helps to easily identify products without causing messes. Containers with lids can protect your beauty products from dust and dirt.
Utilize vertical drawer space
Always fix an easy to access storage to keep everyday beauty products. If you mix up cosmetics that you need every day with other products, you may end up messing your makeup drawer and you'll have to start reorganizing it again. Designate a prominent space for your frequently used cosmetics. Vertical storage space is excellent in keeping your everyday makeup products. Invest in a sliding tray that fits the width of your drawer and you can hang it on the top of your drawer space. You can also repurpose storage bins or unused refrigerator trays for this purpose.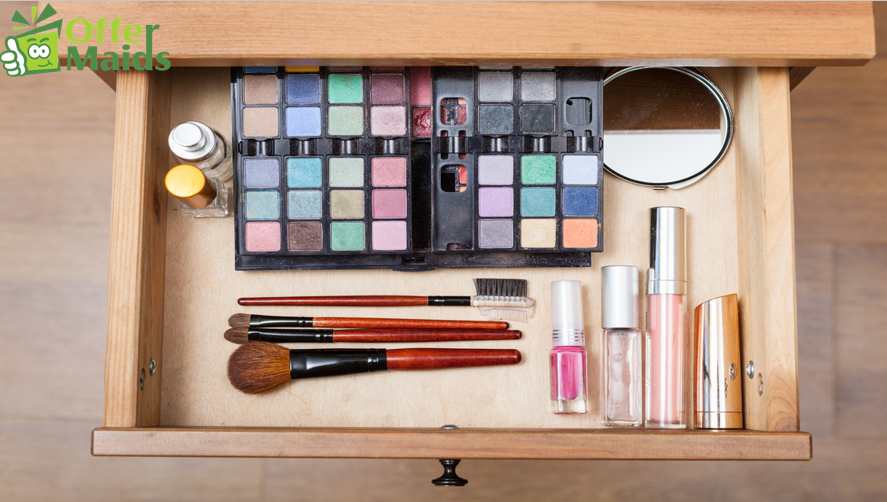 Invest in standalone drawers
If you think your vanity space does not have enough space to accommodate things, use a set of drawers to give you additional storage space, suggests the best cleaning company in Dubai. Get a couple of drawers of different sizes you can place on the shelf or the floor. Fill it with your cosmetics that belong to different categories. Label the drawers with the category name so that the next time you don't struggle to find what belongs where. Also, labeling helps to keep things in place. Whenever you get a new product, you can simply keep them in their designated place without cluttering the space.
Here are some additional factors you may need to consider while handling the cosmetics.
Monitor your cosmetics
Experts from the best house cleaning company in Dubai suggests to always monitor your makeup products. Cosmetics tend to change their quality over time due to certain factors such as temperature changes, humidity, water activity, presence of microorganisms, and dirt. If cosmetics are improperly stored or handled, then they may deteriorate even before the expiry date.
Exposure to high temperatures, keeping in direct sunlight, keeping the lids open for a long time, etc. can cause damage to the product. The best cleaning company in Dubai recommends keeping the product in a non-hygienic condition that will make microorganisms enter the products and grow inside them. The preservatives inside the beauty products kill the germs if they enter inside them. If your product gets heavily contaminated, the application may cause skin allergies. On the other side, keeping the products under the best conditions will make the product acceptable even after expiration.
Know the expiration
Never use your product after the expiry. If you want to know the shelf life of beauty products, the below list shows how long you can expect your product to be in good condition after you first open it.
Mascara – 6 months

Pencil Lip Liner – 2 years

Liquid Eyeliner – 3 months

Gel Eyeliner – 3 months

Lipstick – 1 year

Lip liner – 1 year

Lip Gloss – 6 months – 1 year

Cream-based eye shadow – 1-2 years

Cream compact – 1-2 years

Cream-based blush – 1-1.5 years

Oil-free foundation – 6 months – 1 year

Powders – 1-2 years

Concealers – 1 year
Here are a few tips on how you can improve the shelf life of your cosmetic products.
Always keep the products away from direct sunlight and extreme temperature.

Never store cosmetics with the lids open. Close them immediately after usage.

Always clean makeup brushes especially if you want to share it with others.

If the product is available with a pump or tubes, prefer them over others.

Wash the hands and keep them dry before using cosmetics.
Hire expert cleaners from the best cleaning company in Dubai
Hire experts for your cleaning chores from Offer Maids, the best cleaning company in Dubai. At Offer Maids house cleaning in Dubai, we provide reliable and trustworthy maids to take care of all kinds of commercial and residential cleaning needs.