Best Hobby And Toy Storage Ideas From Housekeeping Services Dubai
Arrange your kid's toys and hobby stuff smarty and efficiently with these pro tips by housekeeping services Dubai
If you are a parent, you'll probably know how difficult it is to deal with your kids toys and their hobby stuff. An unarranged kids room is like you entering a dense forest where you don't have an idea of which direction you'll need to take your next step. It is important to arrange your kids toys, crafts and other stuff. When you start decluttering, if you're not moving in the right direction, you will end up nowhere. To help you, offer maids have come up with the best hobby and toy storage ideas from top housekeeping services Dubai. Here are some clever organizational tips and tricks to organize your kids' toys and other stuff in the easy to access and store back approach.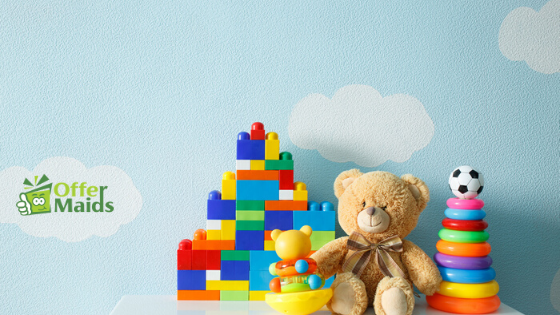 What are the benefits of decluttering?
Helps to relax

Easy to access

Create a positive mood

Reduces stress

Get a well organized room

Easy to clean

Efficient way to store belongings

Get an allergen free home

Find your lost items

Save some money

Improves creativity
Empty the play room
Take everything out of the play room or your kids' bedroom before you start the decluttering process. Create a rough plan so that you will get an idea of what to be placed where. The next step is to sort the stuff. Items which serve similar purposes will be grouped together. Hobby stuff, toys will be included in this link. If you hide items under bed, every time when you kids search for them, it will be difficult to trace out which item is where. If you want your kids to continuously engage with their favorite toys, they should be kept at a place which is easily visible and accessible. 
Sort and stack similar items together
Once the room is empty, the next step is to sort out the stuff. Section them as outdoor items, puzzles, crayons, robotics, board games, craft supplies, etc. Assign dedicated storage areas to each section. Stack items in transparent containers as that will be easier to identify in future. If transparent boxes are not available, you can simply label these boxes. Your kids can easily reach out to these boxes by reading the labels. They can also keep their things back once they are done using their stuff. Items that are not frequently used can be kept hidden which will in turn free up more spaces. They can be kept under the bed. You can also multi use their couch as internal storage and sitting space outside. 
Other items go either to donation box or to discard box
Once you sort your items, there will still be items which you will be confused whether to keep or dispose of. Designate a donation box and a discard box to classify items which are not needed in future. If you find any used toy in good condition or if it belongs to an age specific category and your child has passed that age, you can keep them in the donation box. You can donate any such unwanted and unused items that are in useful condition. Thus you can teach your kids the importance of donating things and also you can avail tax benefits when you donate stuff. Other items like items with missing pieces, broken toys, etc. will go to the discard box. All the discarded items will go to trash. Few items like tools, paint brushes, gums etc can be kept in specific boxes and use it in future. 
Designate a special corner for electronic devices and sleep time story books
Create a charging corner for all the gadgets so that they will be neatly placed in a separate area and other areas won't get messed up. Also you can keep all the gadgets in a specific area during the night when your kids go to bed or when they are out for school. There are a lot of gadgets storages commercially available in the market or else you can  create your own DIY gadget storage area. Like the same, the story books and other similar stuff should be kept in their own designated areas. You can create a space for keeping your kids' sleep time story books near the bed so that it will be easier to access whenever needed.
Ask opinion of your kids and seek assistance
Afterall, it's your kid's room or their playroom that we are decluttering. Always make sure that we ask their opinion before the clutter-freeing process. Incorporate the opinion of your kids like in which corner they want few things to be stored, and find out what are their favorite things and these items will go inside the favorite box. Also you can see help from your little ones and make them engaged. This will help them to know the importance of decluttering, learning the process and also in future they can do it by themselves. To add up a more interesting element to the decluttering job, you can make it as a game with your kids and section it as few tasks. On the completion of each task, you can reward your kids their favorite toys or chocolate and make it a fun filled activity along with learning.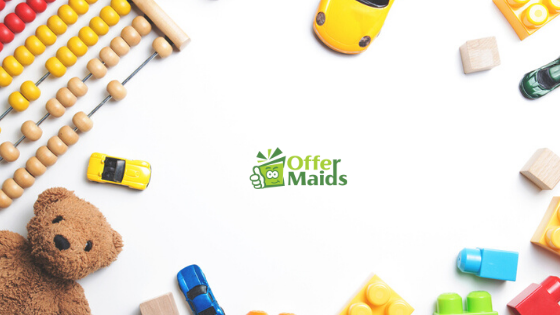 Seek assistance from a reliable housekeeping agency Dubai
Hiring a professional maid from home cleaners in Dubai offers you a handful of benefits. It can save a lot of your time. Maids in Dubai will keep your house clean, decluttered and simplify your household chores while you spend time with your family. They will keep you stress free. Home cleaners in Dubai know the right cleaning techniques and they are equipped with the right cleaning tools. They provide you with a customized cleaning schedule where you can hire maids in Dubai on your preferred time slot.
Offer Maids House Cleaning Dubai is one of the most trusted and reliable cleaning services in Dubai to help you ease off your cleaning chores. We provide top quality cleaning with the help of trusted and reliable experienced maids in Dubai to deep clean and re-energize your residential and commercial space.