11 Ways to Organize the Space In Your Kitchen 
Cleaning experts from Offer Maids, the best maid company in Dubai, suggest some organizational tips for your kitchen.
Not everyone has a massive kitchen with lots of storage space and separate divisions. No matter what the size is, you can still find simpler ways to make the maximum out of your kitchen.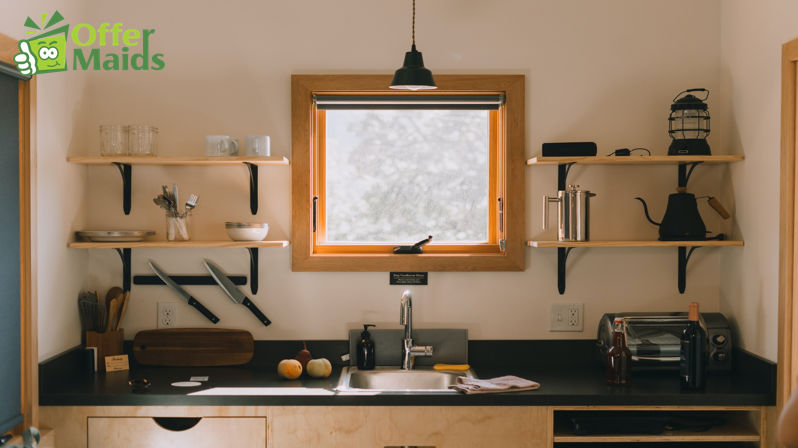 1. Creating Label for the Contents Inside Your Pantry
Creating an organized pantry is the first step of building an organized kitchen. A labeled pantry is like the core of the kitchen. If you are unaware of where exactly the things are, the rest of kitchen functioning will be difficult, especially when it comes to something you don't really enjoy. Using minimalist labels is the best technique to keep the goods organized. Keep the labels inline and label almost everything, even the things you feel like not putting a label on. In the opinion of cleaning experts from a leading maid company in Dubai, that will create a minimalist look and ensure that everything will stay in its place.
2. Hang Under Kitchen Cupboard
Using an under kitchen cupboard will make use of the extra space in the kitchen for hanging knives, bottles, sponges, and other cleaning utensils, you might think it's time to start incorporating bins and baskets to hold commonly used supplies. Wait just a moment! Before you visit your favorite retailer next time to buy up all of their organizational products, house cleaning services Dubai suggest considering Under Kitchen Cupboard to maintain your extra space.
3. Use Cutlery Drawer
As a maid company in Dubai, we believe cutlery drawer dividers turn your kitchen spaces from chaotic to neat. Having a cutlery tray organizes your spoons and forks while the plate holder keeps your plates safe and within your reach. Everyone needs a space to store those extra miscellaneous things, but they don't have to be everywhere and junky. Cutlery Drawer dividers will help you assign a little spot for each thing, and you'll be able to find things when you need them.
4. Back of Door Organizer
Small cabinet door hangers can outstandingly impact your kitchen organization by giving you more space for essentials. To help you store essentials like sponges, brushes, and cutting boards, hang small towels on the back of the door or use hooks. A door-hanging storage basket offers a great place to keep the kitchen clean and tidy, so they're easily accessible. The wall-mounted spice rack keeps the spices ready at your fingertips while you cook and acts as art in your kitchen – A great way to stay organized in your kitchen. It can also add up extra storage under the sink! Whether you're thinking about clear acrylic for a sleeker, modern look or faux wood for a more traditional feel, spice racks can keep sponges, brushes, and knives from touching harmful surfaces under the kitchen sink.
5. Hanging Kitchen Towels
In almost all kitchens, hand towels are an essential item, used for many purposes from drying hands to wiping dishes. The towel should be in a convenient location, and if you do not have one or more places dedicated to towels, you know how hard it is to search for one when you need it. Hand towels can also be a dominant style accessory. Finding the right places for hanging your towels can save a lot of time, especially if your space is small or there is no better place for a towel bar.
6

. Installing Appliances into Your Kitchen space

Installing appliances such as a microwave, fridge, or dishwasher into a kitchen space can be a real game-changer, especially when you have a smaller dining area. And you can even install a sink to manage space that allows you to mingle when cooking, says experts from the leading maid company in Dubai. 
7.Add an island
Kitchen islands have become a cardinal kitchen feature, with the move towards organized kitchens in open-plan spaces. It's an easily available piece that might be long and slim, whereas many kitchen island choices are there. You can get one off the shelf from your nearest stores. Choosing an island that has great storage is the best one you can get.
8.Use Liners In and On Your Fridge
Fridge liners can be set down on shelves and in bins, and they are meant to present as a partition between foods and the fridge itself. So when spills and messes happen, you only have to remove and wash the liner instead of cleaning the entire fridge. Using newspaper or thin towels in drawers keeps them fresh longer too. Never stop with the shelves though, putting a towel at the top of your fridge to collect dust and launder it in regular intervals.
9. Wall Mounting Paper Towel Holder
The paper towel holder mounts to a wall or under a cabinet so they are always at your fingertips. Like many other kitchen items, using a paper towel holder is helpful. Keep the kitchen clean, dry all day long. And there are more than just hanging paper towel holders in the nearby stores.
10. Racks for Canned Goods
When it comes to storing survival food, use those empty drawers for storing the canned goods. Stacking cans of food on the ground makes the entire kitchen chaotic. Being a maid company in Dubai, we believe this is an easy, inexpensive, and organized method for storing canned goods even in the smallest possible space.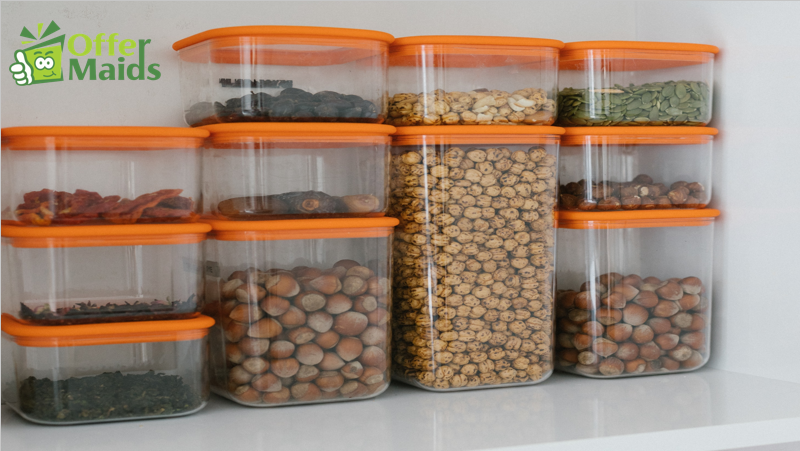 11. Hanging Cutting Boards Into Wall

Keep cutting boards in wall hooks for easy access. Make sure you keep your cutting boards clean, arranged, and organized to improve the overall look of your kitchen. Take them down when you need to use them, and then replace them on their wall hooks once you're done.

Related : Why, When & How To Clean Your Makeup Brushes?