Prepare your home for the National Day celebrations
The 48th National Union Day is here and everyone in the country is absolutely excited to celebrate with friends and family. The union of the seven emirates marks a momentous achievement for the people of the UAE. this is the time to bring together all your loved ones and enjoy the festivities, go on a shopping spree and just have a good time. If you are planning a National Day party at your home, you will need to prepare your home for the special day. With just a couple of days to spare during the weekend, take a look at some of these handy cleaning tips from trusted Dubai house cleaning services for getting your home ready for the National Day.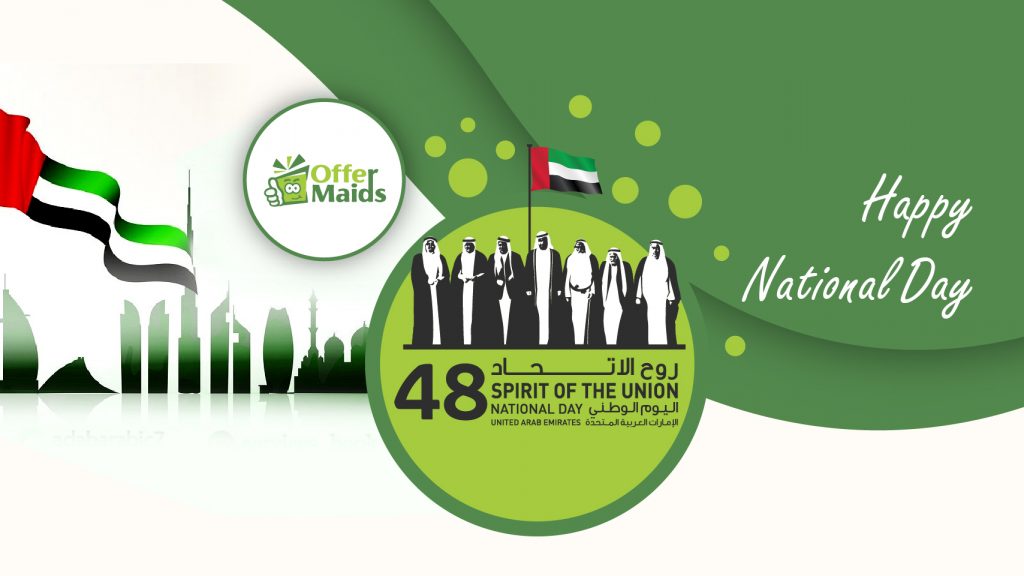 Decorate the living room
When everyone gathers at your home, you'll need to make your living room look clean and inviting. Professional maid companies in Dubai suggest a simple way to reduce the dust and dirt accumulation in your home: make your home a no-shoe zone. Leave all the shoes by the front door, preferably in a covered shoe-rack and place a dust-attracting mat by the door so that there is minimal dust coming in through the front door.
Vacuum your carpets thoroughly to remove all dust. Use the fine cleaning attachments to vacuum the surfaces and crevices on your furniture. If possible, remove the carpeting and wash and clean the floors to clear out any dust. It is not enough to just clean the living room to make it appear homely. Slice a lemon and place it in a bowl of warm water. Sprinkle some spices as well into this. Place the bowl in the living room and it will give off a fragrant aroma throughout the day. 
Finally, get some banners, ribbons, and streamers in the national colors – red, black, white and green – to decorate the living room. After all, this is the time of the year to show your love for your country!
Make the kitchen great again
Admit it: we go out to eat almost every day. So why not make the day special and cook something delicious for your friends and family? It's a great opportunity for bonding, and if you love cooking a mean steak, this is the right time to share your skills with your loved ones. But before you get there, you'll need to get the kitchen sparkling clean.
General Cleaning Tips
Clear out garbage bins daily – that's a non-negotiable cleaning tip. Food waste that goes into the garbage bins is an open invitation for pests to enter your kitchen. And if your bins are not properly sealed, stale food would give off such stale odors that you wouldn't want to enter the kitchen the next day.
Professional house cleaning in Dubai recommends sprinkling some baking soda on the counter tops before wiping down. This removes any tough stains or grease on the surface.
Appliances
The exterior surfaces of your appliances might be regularly wiped down, but cleaning the insides is easier said than done. Run your dishwasher and microwave for a cycle with just a bowl of vinegar solution. This helps you wipe down the accumulated dirt inside more easily. For refrigerators, clear out all the old food and wipe down the inside surface thoroughly to prevent any mold growth.
Sink and garbage disposal
Sink cleaning is always a hassle, for one because the grease from your food never goes straight down and sticks to the sink surface. Use a spray bottle filled with vinegar and soap solution to spray liberally over the sink surface. Scrub with a damp microfiber cloth or a cleaning brush to remove the stains. Wash with water to clear away any lingering dirt.
For the garbage disposal system, flush a few slices of lemon along with a baking soda solution down the sink. This helps dislodge any food bits and removes any tough grease. Next, flush a couple of ice cubes as well to clear any remaining debris.
Bathroom Cleaning
With many guests at your home, your bathrooms need to be cleaned before and after the holiday. Floor tiles and stone surfaces need to be wiped and scrubbed clean to remove water stains and accumulated dirt. For tough stains, fill a spray bottle with distilled vinegar and baking soda and spray on the stain. Allow it to sit for about 10 minutes before wiping away the dirt with a microfiber cloth.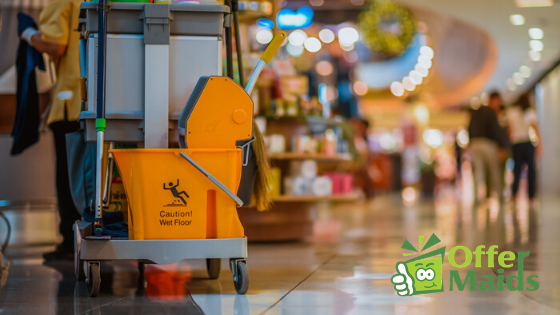 Shower heads and faucet fittings need to be cleaned with commercial cleaning agents if they suffer oxidation effects. Hire professional Dubai house cleaning services to help you get your bathrooms cleaned and disinfected thoroughly.
Outdoor Maintenance
A nice barbecue out in the backyard in the evening sounds like a great plan, doesn't it? Well, unless your lawn and shrubbery are properly maintained, you would need to reschedule it for Christmas or New Year. More than pruning the shrubs and mowing the lawn, you will need to clear away any debris from your yard to make it look presentable. Hire a professional maid company in Dubai to get the outdoors cleaned properly.
To give a festive appearance, you can use some of the banners with the flag colors to decorate the shrubs and trees.
Dubai house cleaning services to the rescue
With friends and family at your home during the holiday, you need to keep your house looking tidier than usual. But while you are busy between home and work and shopping, you may not have the time to clean every nook and cranny in the house. It is always a good idea to hire professional house cleaning in Dubai to get your house in order before the guests arrive. And if you are confused about choosing the right cleaning service for your home among the dozens of cleaning companies out there, worry no longer.
Offer Maids helps keep your home fresh and beautiful so that you can focus on more important work. Our maids are specially trained to remove all dust and dirt from your home. We provide exceptional cleaning service at affordable rates, ensuring complete satisfaction for our clients.